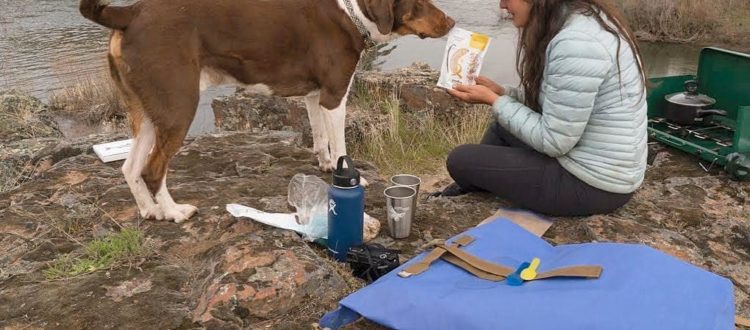 5 No-Mess Meals for your Next Campfire
One pot meals are the way to go in our book. Easy to cook and easy to clean, the options go on for these one pot wonders. For most RV travelers, kayakers and backpacking enthusiasts a camping kitchen is usually not readily available, or not fully stocked. But most of the time, you can get away with just a simple fire to rustle up something good. Try some of these delicious wonders the next time you pack up for your next exploration.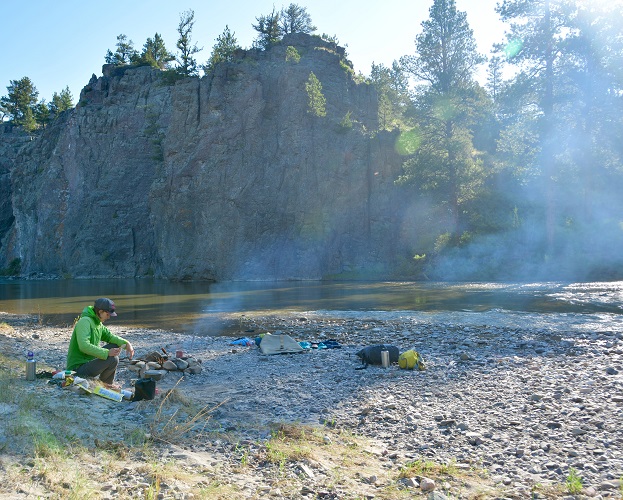 Photo Credit: Tara Kramer
1) Garlic Steak & Cheesy Bacon Potato Burritos
Need we say more? No mess, no hassle, easy and delicious. Foil is your best friend in the backcountry. We find there is nothing wrong with some indulgence after a splendid day of adventuring and setting up camp. Hard work deserves a nice pay-off. Cook everything beforehand or cook thoroughly on the grill or skillet when you are ready. Enjoy!
Full Recipe: https://cafedelites.com/steak-cheesy-bacon-potato-hash-foil-packs/ 
2) Chicken Skillet with Sweet Potatoes, Brussels Sprouts and Sautéed Apples
Sound fancy? Well it may not be pull out the table cloth fancy but it is still one pot material and easy to make if you prep beforehand! Chop, dice and pack everything in a kitchen bag to whip out when you are ready to fire up the stove. Not looking for a soggy meal? Don't forget to bring along your trusty Watershed Drybag to keep everything airtight and sealed away from the bugs, rain and any other elements you may run in to. Heating up wet food just doesn't work right 😊
Cook the chicken and bacon before-hand for a quick and easy one skillet meal outdoors. Don't forget the cinnamon secret ingredient, it really adds that extra ounce of flavor!
Ingredients:
1 tablespoon olive oil
1 pound boneless
skinless chicken breasts
cut into 1/2-inch cubes
1 teaspoon kosher salt, divided
1/2 teaspoon black pepper
4 slices thick-cut bacon, chopped
3 cups Brussels sprouts, trimmed and quartered (about 3/4 pound)
1 medium sweet potato, peeled and cut into 1/2 inch cubes (about 8 ounces)
1 medium onion, chopped, 2 Granny Smith apples, peeled, cored and cut into 3/4 inch cubes
4 cloves garlic, minced (about 2 teaspoons)
2 teaspoons chopped fresh thyme or 1/2 teaspoon dried thyme
1 teaspoon ground cinnamon
1 cup reduced-sodium chicken broth, divided
Full Recipe: https://www.wellplated.com/chicken-apple-sweet-potato-and-brussels-sprouts-skillet/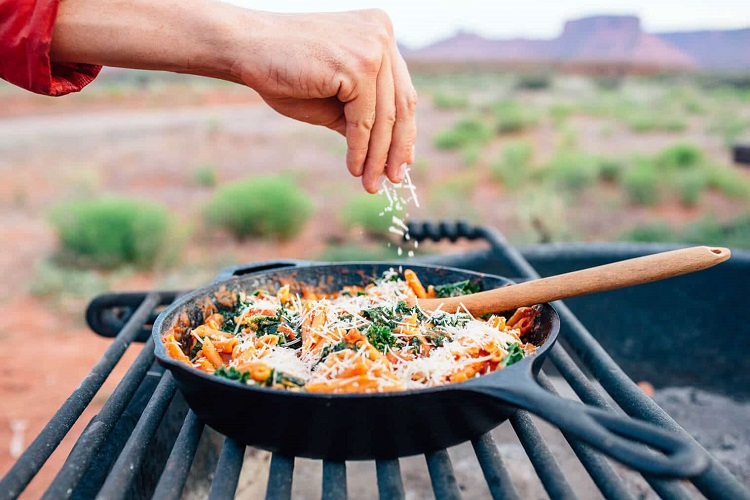 Image from Freshoffthegrid
3) One Pot Protein Pasta
Protein is key when you are out in the wilderness. A dish without loads of protein is just taking up room in your pack (unless it's chocolate…because chocolate is great). You know in advance you are going to be hungry after a long day of hiking, paddling or just being awesome. Pack that protein into your meal so you don't wake up with a growling stomach in the middle of the night – nothing like having to search for the bear bag in pure darkness. Ingredients for this masterpiece include kale, garlic, red pepper flakes, tomato sauce, lentil pasta and cheese. Equipment required: stove /fire and the skillet! Easy peasy.
Full Recipe: https://www.freshoffthegrid.com/one-pot-protein-pasta/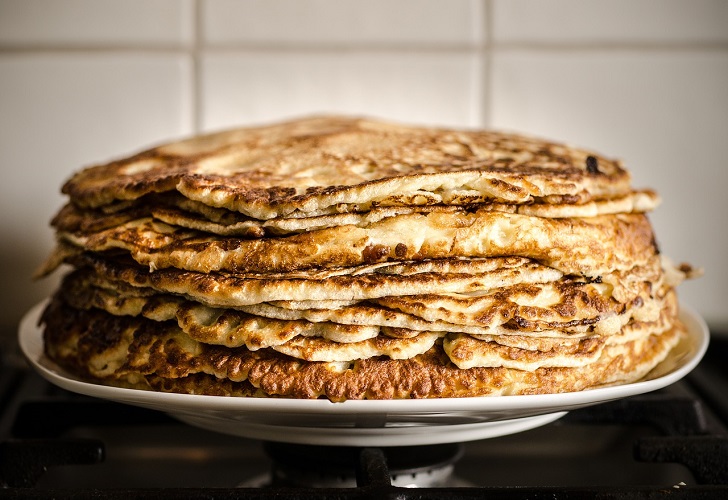 4) Protein Pancakes
See a theme to these meals? PROTEIN! Protein pancakes are super easy to bring on your next outing. These guys give you that ounce of energy you will need in the morning and they provide the perfect leftovers for that 11 am snack. Make the protein batter beforehand to easily pour into your skillet when your ready to eat! Ingredients include an egg, all-purpose flour, vanilla whey protein, baking powder, almond milk, vanilla extract, sugar, fruit and syrup. Wake up and take on the day!
Recipe option: https://www.campchef.com/recipes/vanilla-protein-pancakes/
5) Cheesy Asparagus One Pot Orzo
What could fill you up more than cheesy noodles?! This is a great dinner option to replace all those carbs you lost during the day and to put you right to sleep.
Ingredients:
½ lb asparagus
2 cups water
1 cup orzo
½ tablespoon olive oil
½ teaspoon dried thyme
½ teaspoon dried basil
½ teaspoon garlic powder
½ teaspoon salt
¼ teaspoon red pepper flakes
½ cup shredded cheese
¼ cup sun dried tomatoes, chopped
2 tablespoons pine nuts
Directions: Cut off and discard the tough ends of the asparagus, and then chop asparagus into 1" pieces. Add the asparagus, water, orzo, oil, and all the spices into a pot. Bring to a low boil (this took us 4½ minutes) and cook for an additional 5 minutes.
Reduce heat and add the cheese, sun dried tomatoes, and pine nuts. Stir until the cheese has melted. Remove from heat, season to taste with salt and pepper, and enjoy!
Add a Watershed padded liner in your Ocoee Drybag to separate the ingredients for that extra level of cushion. Have fun!