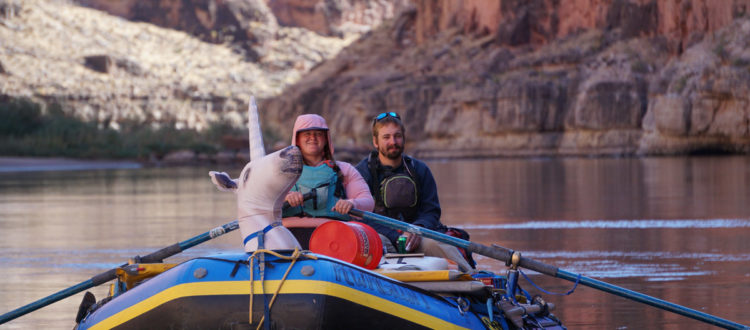 The Undisclosed Soul Of a Multi-day Rafting Trip
By Ashley Manning
"Goodbye! Talk to you in three weeks!" I type out a text to my family's group message. I've found myself on the way to Lee's Ferry, the put-in for the Grand Canyon. At that moment, I sat in the rig truck with a couple of others, making its way to the put-in before the rest of the 15 person crew. We all kind of knew each other, I had actually been down the canyon with two of the people with me in 2016. The pre-rig crew was Dannie, Chloe, Crystal, Kenny, and myself.
My eyes took in the last of civilization and soaked up the desert views, as we pushed towards the Colorado River. We parked, hopped out of the truck, and our rigger, Ben, begins to unload bags, gear, paco pads, and of course, copious amounts of beer. We unloaded and carried 18 foot boats, oars, metal frames, and the loaded coolers and boxes of food, provided by Canyon REO. By the way, if you thought that a multi-day rafting trip was going to be a dictionary definition of a vacation, you're way off. Hard work is what makes any rafting trip happen.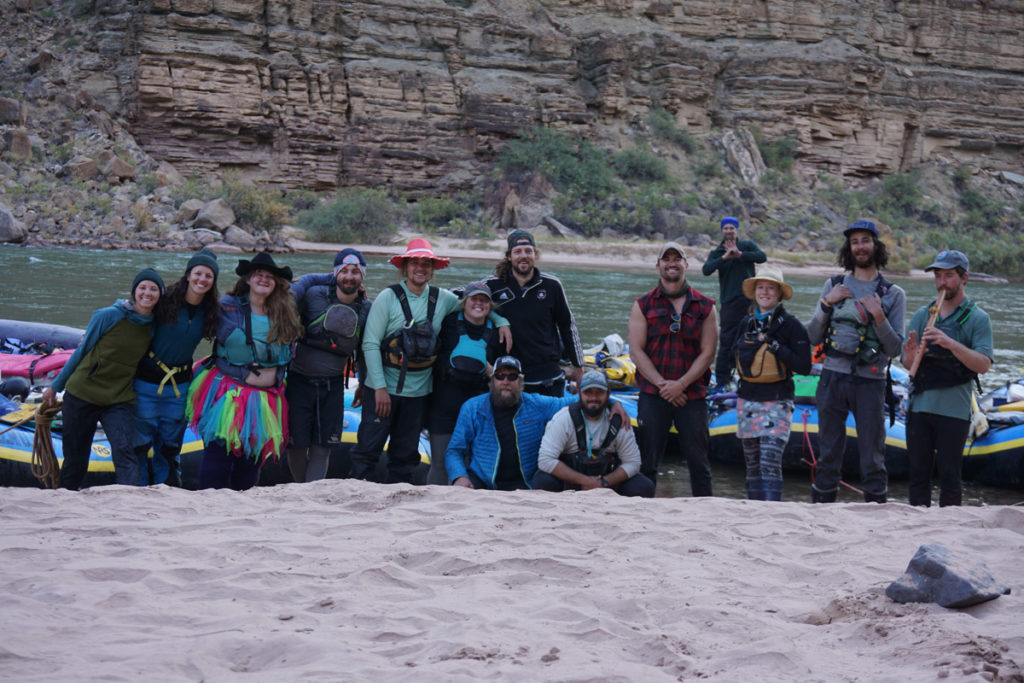 About The Put-in
On this day, there were three trips rigging and launching the next day, so the chaos was heightened. However, we had something really unique that was happening. The trip that was rigging right beside us was a crew of our friends from the Southeast. Two trips, launching the same day, and almost everyone knew each other. Which, made for some friendly competition.
For the trips that I've been on, the trip leader will assign boat captains to ensure the boat gets rigged accordingly. For my boat, it was me and my friend, Chris. We both knew what we were doing so boat captain was irrelevant for us, but it works for others.
After everyone's boats are ready, we head down stream only about 100 yards and set up camp for the evening. After camp is set, we have "The Last Supper" at the Marble Canyon Lodge and go back to camp.
Our launch date was October 30th, 2019. That night was particularly cold. I was prepared since my first canyon trip was in December, though I didn't sleep well due to anticipation. (And perhaps because I hadn't figured out how to set up my bed properly on my boat yet.)
That morning, we launched after a humor-filled briefing from the NPS ranger and a goodbye breakfast from our rigger. The first day on the water is a day full of learning opportunities, or rather, you better figure out what's going on, since you do hit your first notable rapid that day. The canyon classification for rapids are from I-X instead of classes I-V. Bager is a class V and one of our boats lost an oar-tower during the rapid. The next day, my boat lost an oar-tower in Shear Wall rapid.
On the second day, we were completely out of extra oar-towers. We brain-stormed and decided to put leashes on the oar-towers like leashes on the actual oars, tied to the frame. Every morning, everyone was tightening their towers and locks like you've never seen. This is an example of the learning experiences that the canyon brings.
Without love for the backcountry or previous experience, multi-day rafting trips can be difficult due to the uncomfortable nature. If you learn to embrace the sand, sunburns, and general lack of temperature control, you really can see trip for what it is. This is another way you bond with your river family, through the rustic harshness of the elements. Other than that, life on the canyon becomes normal relatively quick. Waking up, packing away my sleeping bag, and grabbing my sandy coffee mug for some good ol' cowboy coffee (with Bailey's of course). Acquaintances become friends, friends become family and you leave the real world behind to fully immerse yourself deep in the canyon walls.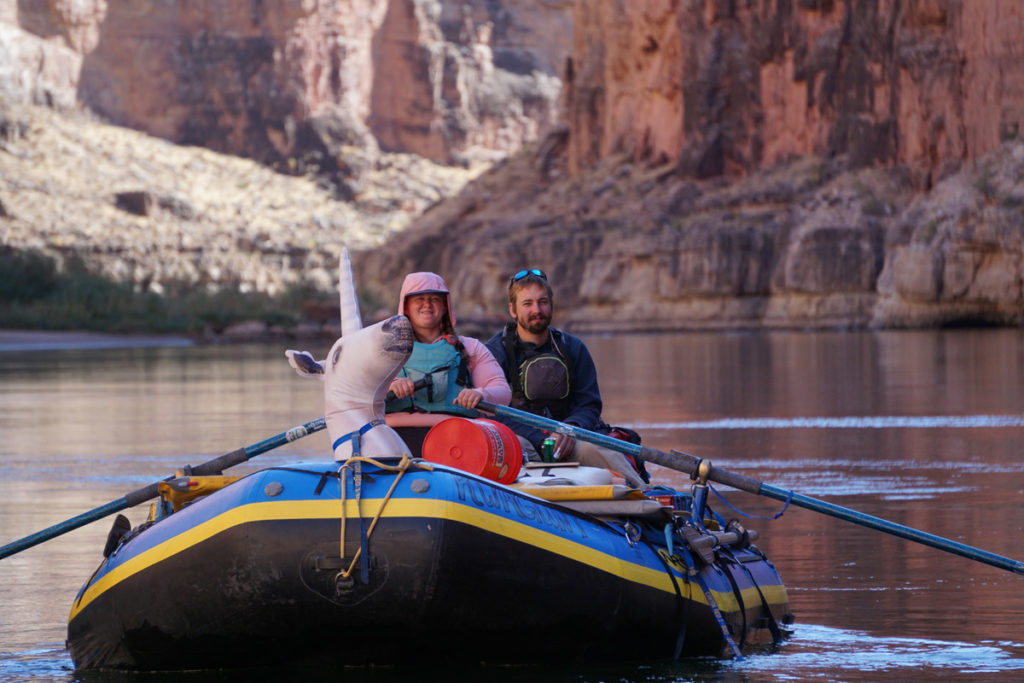 About Group Dynamic
The next few days are crucial for the group dynamic. At first things are awkward but the bonding begins to take off. At the beginning of the trip the NPS ranger mentioned that little things that you find annoying at the start of the trip will turn into hate-fill aggravation by the end, which is true. You should make sure to defuse situations before they become something larger, or it could create tension for the entire group. Though, for the most part, you start to become a team. An unstoppable team – by the way – one that watches out for everyone involved.
We had an evacuation when we pulled into Phantom Ranch. For those that don't know, Phantom Ranch is accessible by river and by hiking in and out. It's also easy access for helicopters. One of our more experienced women on the trip, Crystal, had fallen ill and needed a hospital. This was her 8th trip down the canyon, so it was a professional call for her. The helicopter came and went in a flash, and our goodbyes were brief. From then on out, I felt like we all watched over each other a little bit more.
Everyone has each other's backs, I felt confident with my boatmate, Chris. I also felt confident when I was alone in the boat in large rapids, that if something happened, that I would be okay. The last large rapid before Lava Falls is called Upset rapid. The dog-walk line is suppose to be the right line and the high-adventure line is the left line. That day, Chris went with someone else for a left run, and I was in my boat alone since I wanted to take the more conservative line. In the middle of Upset is a giant hole, which is to be avoided. Too bad I avoided to avoid the hole and ended up hitting it head on. My right oar swung backwards and hucked me out of my boat. Whistles went off, and I was under for only a short bit and got back to my boat as soon as I could. I was worried when I had a difficult time getting myself back into my boat and I seemed to be aimlessly floating, but the crew was making moves. Chloe and Mari had already hopped into my boat and helped me in. It was a quick recovery.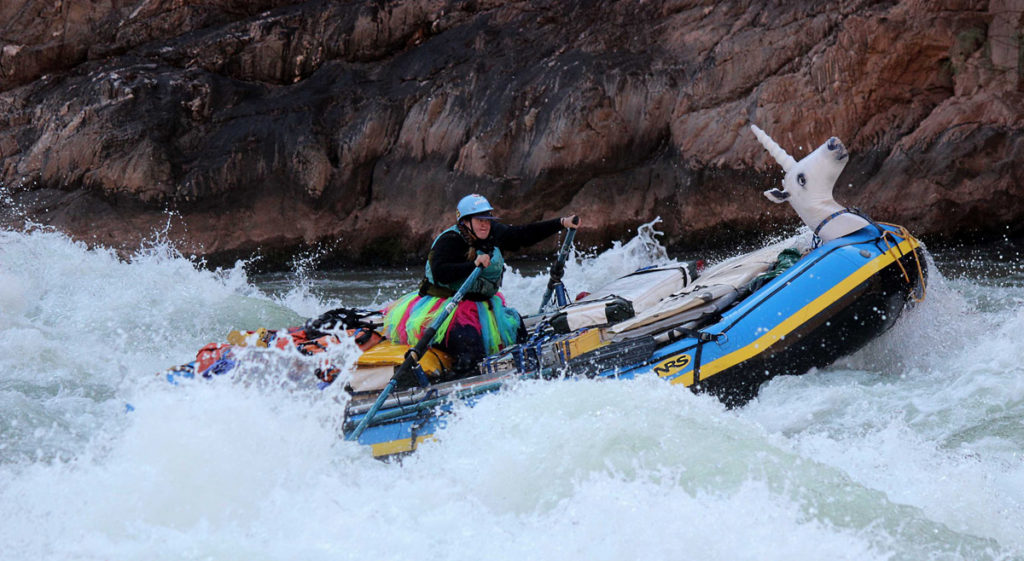 About Stress
Middle of the trip, stress levels are generally lower and everyone is getting comfortable with their places on and off the river. Leaders become apparent and those that weren't familiar with oar rigs or big water are gaining confidence. The group dynamic is set and camp life is, as well. The whole set up for camp is now an efficient process. A certain flow kind of just makes it's way into the day to day life. Pack up, breakfast, breakdown camp, rig, push-off, row, slap waves, lunch, row, park, de-rig, fireline kitchen, set-up camp, dinner, sleep. Now, there's more to it than just that. Maybe sprinkle some party time and hikes along the way, but for the most part that's the flow.
When the trip is closing in towards the end, there's certain stress relief from the rapids since Lava Falls is the last significantly notable rapid for the most part. However, there are those moments here and there when someone brings up the real world. The pressure of the concrete jungle comes at you and I found myself saying "NO!" in my head when I thought about turning on my cell phone, having to check emails, paying bills, or moving my entire life to a new city right after the Grand Canyon. With that said, those anxieties had me make damn sure I was fully enjoying and soaking up every ounce of the canyon because I knew it would end soon. Every grain of sand, every smile from my peers, the smell of campfire on my clothes, every wave and splash of water, the beers I had left, and every inside joke I had with these special folks.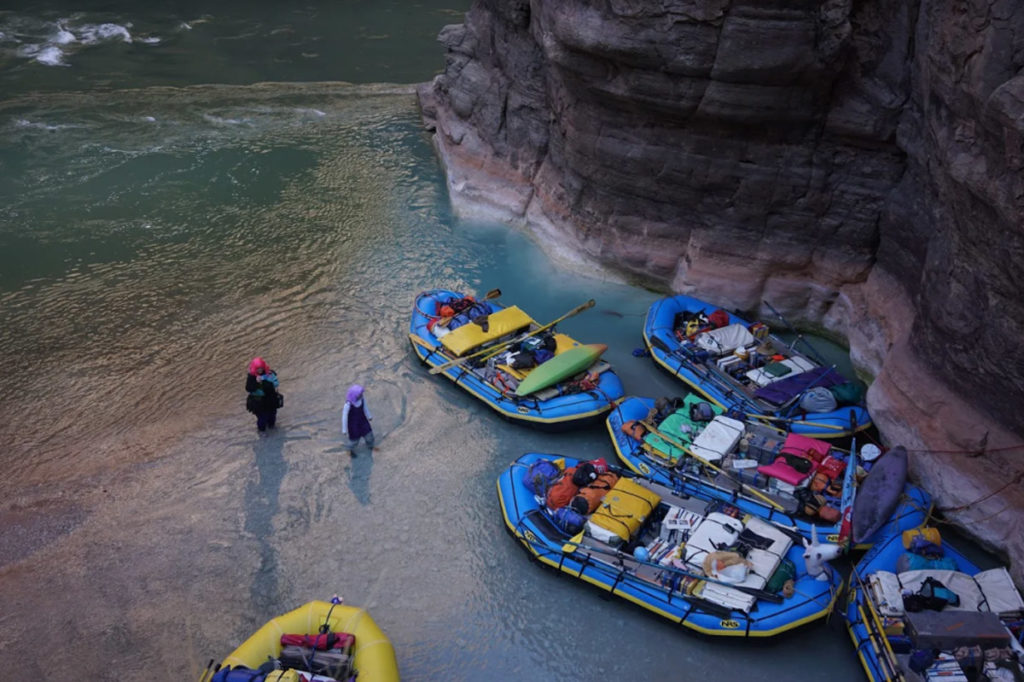 About Canyon Trips
What canyon trips show the world is the fun times, sunshine, and smiles. What you don't see are the stressful situations like realizing no one else can lose an oar-tower and we've got 19 days to go and much, much larger rapids. The wide eyes when you see Lava Falls for the first, second, or however many times. No one sees the tears, busted gear, or bloody fingers. While you might see carnage, you don't typically see the recovery or the injuries or the tough swims. The soul of a rafting trip isn't what you would think. The soul is the hard-work and sweat. It's the unseen and intense bond between everyone on the trip. The undisclosed soul of a multi day rafting trip is this hardworking machine of a family that is created in an impossibly short time.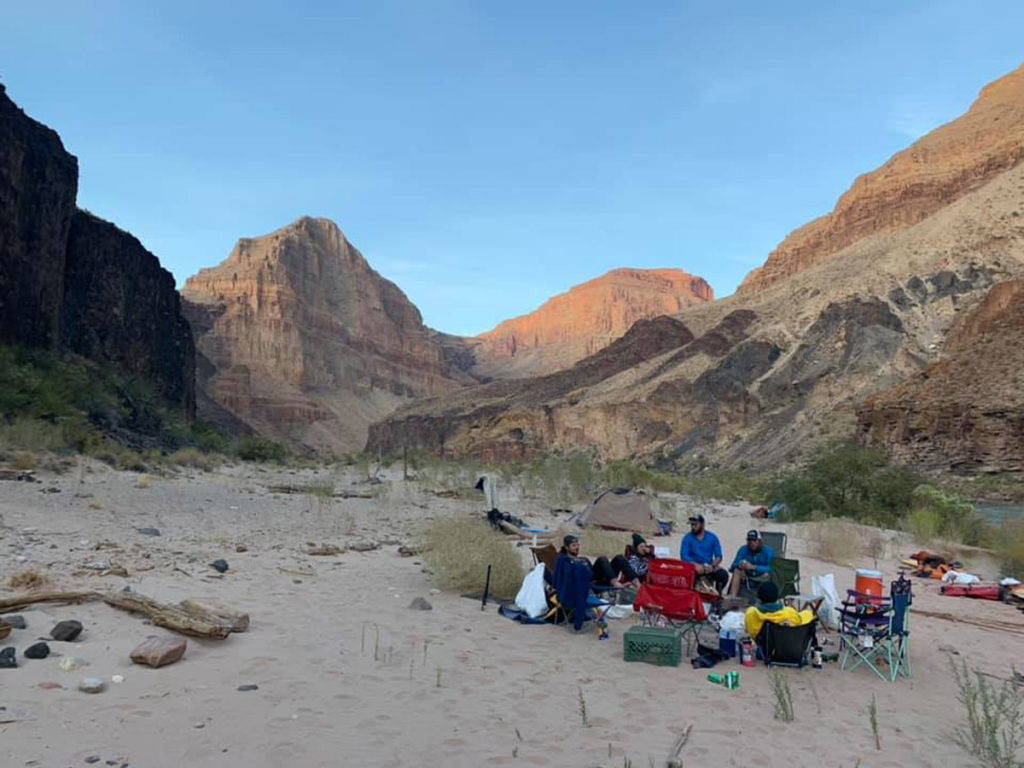 About Ashley
Ashley is a boater, backpacker, and a body positive outdoors person. Currently, she leads multiday rafting trips on the Yampa and the Gates of Lodore with Adrift Dinosaur. Completing 1000 miles of the Appalachain trail in 2018, and taking her place on many private multiday rafting trips, she spends her time in the backcountry and break stereotypes.