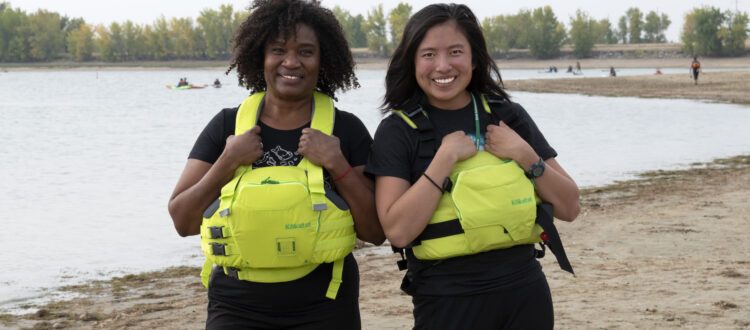 Getting to Know the Founders of Diversify Whitewater
Meet Lily Durkee and Antoinette Lee Toscano, creators and founders of Diversify Whitewater – a nonprofit organization making it easier for Black, Indigenous and People of Color (BIPOC) to access whitewater paddle sports. 
As two paddlers who shared a devout passion for the sport, Toscano and Durkee recognized economic and social barriers that made it hard for BIPOC to access it. These barriers create the lack of existing diversity in the paddling community, making it feel unwelcoming and exclusive towards people of color. 
So far, the Fort Collins-based duo have helped organize two free Community Paddling and Skills Day events in Colorado, but they don't plan on stopping there. 
Committed to promoting Diversity, Equity and Inclusion (DEI) in paddle sports, the events allow free participation and equipment to allow maximum turnout, inclusion and fun. The events also host community discussion that addresses DEI on, and off, the water. They seek to increase BIPOC representation in the paddling community across users, industry and media to allow for larger and more diverse groups of paddlers and whitewater experts to pass their skills and knowledge onto future generations. 
For only being founded in June of 2020, the group has already left a huge positive impact in the community. Their two free events introduced approximately 115 new Colorado-based BIPOC and allies to whitewater rafting. They've also secured 11 sponsorships and partnering organizations – including: Paddling Magazine, Rocky Mountain Adventures, American Whitewater and many more. The group has raised $4,737 through their grassroots efforts, and have received a $5,000 grant from the Mighty Arrow Family Foundation. 
At the end of February, Toscano and Durkee were both announced as National Brand Ambassadors for Kokatat  – what a way to wrap up Black History Month! 
An interview with the founders:
Q: How did you get into paddling – what drew you into the sport?
A: Toscano: I broke my back, severely dislocated my shoulder, and sustained a Traumatic Brain Injury (TBI) while serving in the United States Army during a rappelling accident. Years later, I was so debilitated by my injuries once arthritis progressed, and I experienced several brain-related challenges.
Seven years ago, I was using a walker and had a service dog. I saw a poster for Team River Runner (TRR) while waiting for my physical therapy appointment. TRR is a national 501(c)(3) that provides free use of gear, instruction, and local chapters where veterans and their families can learn paddlesports at no cost. I started my training while still using a walker and a service dog. Since then, I've paddled whitewater from coast-to-coast, summited Baxter's Pinnacle in Wyoming in 2019, and attempted the Grand Teton during the same year. Today, I'm an Assistant Chapter Coordinator to Mark McWilliams at Team River Runner, Fort Collins, CO. Additionally, I'm also a Badfish SUP Paddling Team Member and a Kokatat National Brand Ambassador.
A: Durkee: I started kayaking at the age of nine at Valley Mill Camp near Washington, DC, which launched a lifetime love of whitewater. Growing up, learning to have confidence on the river helped me find confidence in athletic and academic endeavors off the water as well. I remember the day I did my first combat roll very clearly. I was 12-years-old and trying to surf a wave on the Potomac for the first time. After exiting the eddy for the first time all day, I immediately flipped over. Before I knew what was happening, I was upright again. I realized that I had just rescued myself, and I remember feeling like I could do anything. 
I went on to compete nationally and internationally in whitewater slalom as a teenager, including competing at three Junior Olympics, three U.S. Nationals, and the 2012 Vajda Teen Cup in Europe. After switching to plastic boats, I enjoyed boating around the mid-Atlantic region with my favorites being the Top and Upper sections of the Youghiogheny River, the Lower Big Sandy, and all sections of the Gauley. Since moving to Colorado, I have enjoyed boating on the Cache la Poudre River and surfing at the new play park. I am currently a second-year PhD student studying evolutionary ecology at Colorado State University. 
Q: How did the two of you meet?
A: Toscano: It was about two weeks before the COVID-19 stay-at-home order in our state. We met at a TRR kayaking pool session. Lily and I looked at each other, smiled, and hugged. We were both so happy to see another woman of color who is also a kayaker.
A: Durkee: I met Antoinette at the TRR kayaking skills pool session. I had found out about the event during a job interview with a potential research assistant, who turned out to be a civilian instructor at TRR – Fort Collins, CO,  and Antoinette's close friend. Upon arriving at the pool, the first person I saw was Antoinette, and we immediately locked eyes, ran up to each other, and hugged. It was a beautiful moment.
Q: What is your dream for Diversify Whitewater, or what are your hopes for the journey it takes?
A: Toscano: I've been responsible for hundreds of people and multimillion dollar budgets since age 20, so I never think small. From the moment that Lily approached me about forming Diversify Whitewater, I immediately envisioned a national organization. And I knew that I had the business background and national connections to bring this dream to fruition.
My dream for Diversify Whitewater is to help normalize BIPOC in paddlesports. And that we create millions of BIPOC, lifelong adventurers, and boaters throughout the country through our regional events.
A: Durkee: I remember having a vision of a group of BIPOC floating down the river together, huge grins on their faces. Given the success of our events in our first four months as an organization, Diversify Whitewater is planning to hold events across the US in 2021 to continue to support their mission of increasing the accessibility of paddling for BIPOC and Ally communities. My dream for the organization more broadly is to create a community of BIPOC paddlers, instructors, and leaders in the paddling community who can help us foster a future in which the diversity on the river reflects the diversity in our everyday lives. 
Q: We'd love to share your model for welcoming and introducing more BIPOC into paddle sports:
A: Toscano: The best ways to show people of color that a paddlesports or extreme sports lifestyle is possible is through:
BIPOC leadership in adventure sports, like Lily and me at Diversify Whitewater and BIPOC leaders at other non-profits.
Community involvement at the grassroots level, supporting our diversity mission through donations, partnerships, volunteering, and serving as Regional Event Hosts.
Collaboration between BIPOC leaders –  like Lily and me – and those representing the adventure sports industry, plus manufacturers.
An equitable distribution of representation in brand marketing, teams, and ambassadorships.
It's not realistic to try to make representation equal; who would be responsible for tracking that data? We can, however, strive for every adventure sports brand to have the entire population represented in its marketing and teams.
That includes equity among ethnicity, gender, abilities, orientation, and paddling skill level. This allows non-boaters at their current level to see what's possible in their lives–mirror marketing as opposed to window marketing. If Emily Jackson was my only example of a female boater, reaching her level might seem too big of a dream when I first started kayaking whitewater. Young women need to see average boaters like me too, and then they can aspire to be like my paddlesports heroines – Emily Jackson and Nouria Newman.
View this post on Instagram
In 2021, Diversify Whitewater has their sights set on a number of goals. That includes forming a board, enlarging their team (assistants, regional officers, etc.), applying for 501(c)(3) certification, and preparing event proposal guidelines and DEI training. Come May, event season will have begun, in which they plan to host a minimum of four regional events.
Follow their journey on Instagram to stay up to date with their plans, or volunteer by signing up HERE.