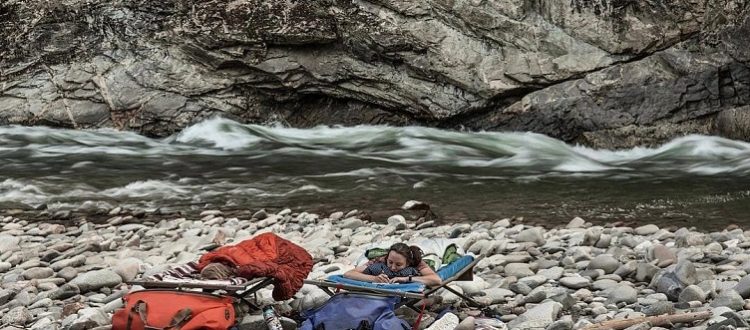 Leave No Trace on the Water
Paddlers around the world have a smaller impact on the environment than other outdoor enthusiasts. Photos and videos are typically the only things leaving with you, and drybags keep everything safe from floating off into the abyss. Some paddlers are even driven to the water by environmental goals and to help educate others about protecting our waterways. A quick reminder of some Leave No Trace policies is always a good idea though – especially if you haven't been on a camping trip in awhile. Brush up on these rules before you head out and help preserve our beautiful rivers, lakes and oceans.

Photo by: @charliebulla
1) Leave What You Find
Find a cool rock? Maybe a heart shaped pine cone you want to bring home to show off? Don't do it! Snap a pic and move on. Most adults know this rule, but it's also important to pass on to the next generation as kids love to pick up items along the hike. Stay attentive and make sure to put everything back and leave the area undisturbed. This is especially important in busy areas where hundreds of people will walk the same path daily.
Tips:
Appreciate ancient structures, rock art and other natural objects, but leave them undisturbed.

Do not build structures or dig trenches in campsites.

Avoid introducing non-native species, including live bait, by cleaning equipment between trips.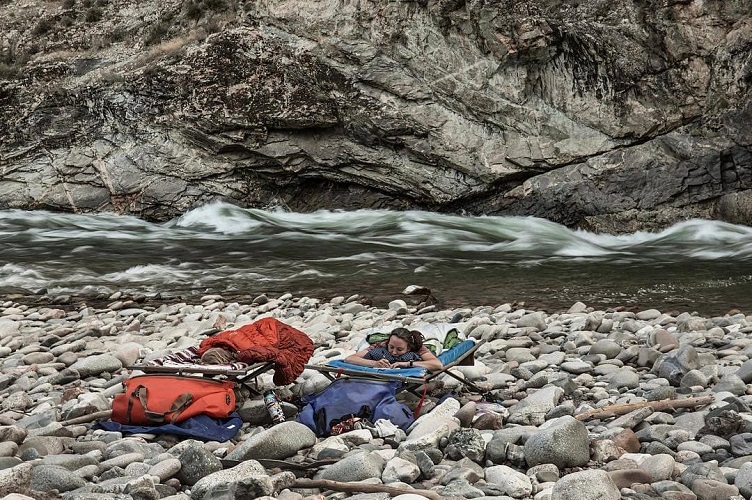 Picture by: @chloegladys
2) Camp on Durable Surfaces
Durable surfaces include rock, gravel and sand and provide a great landing pad for the night. Campsites are usually easy to see with a pre-existing fire pit or bare area. Camp in an area where vegetation is absent and make sure the area is big enough for your group. It is a great idea to leave enough time the next day to pack, check and re-check the area where you camped. After you pack everything up simply do a quick scan of the area to make sure there are no small items like gum wrappers/plastic etc. A clean campsite for the next group will be much appreciated!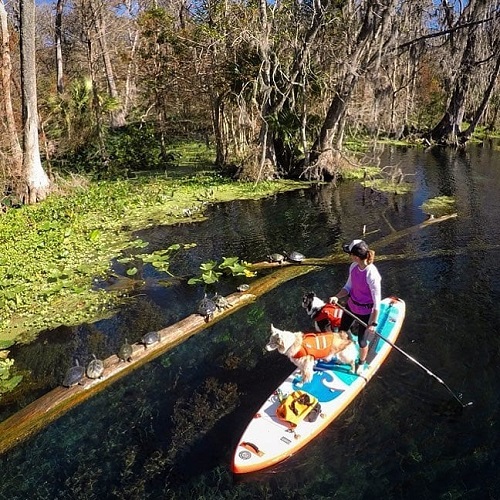 Photo by: @sup_with_pup
3) Respect Wildlife
Your camera or phone has a zoom in feature for a reason! Keep a good distance, snap the picture or video, and keep moving. Don't linger, approach wildlife or try to include yourself in the photo. Seeing wildlife on a kayaking or rafting trip is such a treat! If the animals feel safe by the water, they will keep coming back.
If you are camping always remember a bear canister or other appropriate gear to keep your food safe. Any items with a scent – including your toothpaste – should be put away securely every night.
Tip:
Avoid wildlife during sensitive times: mating, nesting or when food is scarce.
4) Minimize Campfire Impacts
A campfire is a magical way to end a long day on the water. Whether you need the fire to heat your food or simply for warmth try to remember some of these rules before you start the fire:
Use a fire pan or designated fire ring for open fires and charcoal
Use dead and downed wood no larger than an adult's wrist to keep the fire small
Burn all wood and charcoal to ash. Carry out ash with other garbage.
5) Pack it in – Pack it out
Most water enthusiasts do a fantastic job of not only picking up their own trash but picking up items they may encounter along the way. Smaller items like water bottles/plastic are easy to throw into a raft or kayak while you are out. Larger items can be more difficult, but if you make a note of the location and what you see along the route a river clean up could be scheduled or discussed with the local rangers.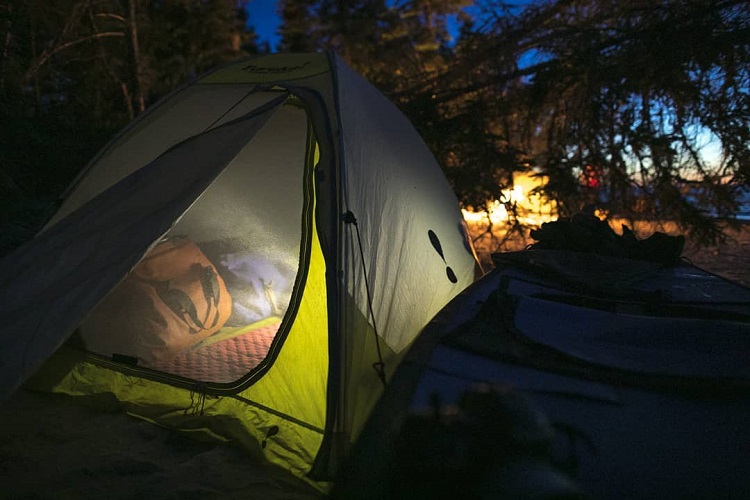 Picture by: 📷 @davidjackson__
6) Prepare
Leave no Trace policies can differ depending on the location you are in. Check the website ahead of time or call into the ranger station to get the 411. Fire bans, camping regulations and permits are all things you need to think about before a river trip.
Always remember to keep your gear safely stored and brought home with you using a Watershed Drybag! Have fun!