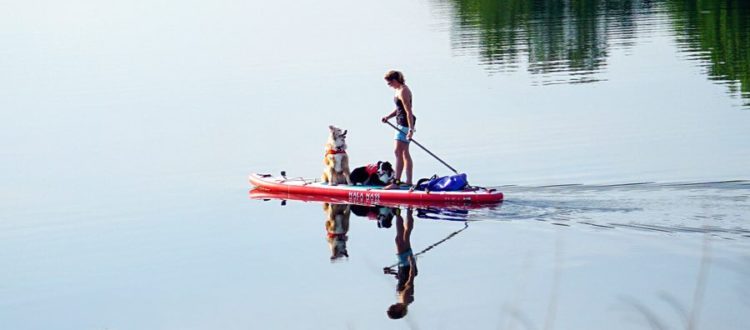 The Origins of Whitewater Kayaking: A Timeline
Have you ever been out on the water and wondered what the origins of whitewater rafting and other paddle sports are? The initial origins of kayaking/canoeing can be traced back 7000-9000 years ago to dug out canoes in the back to the Neolithic Period, although the Inuit and other native peoples who belonged to Arctic Regions of North America and Greenland are credited with the invention of the kayak. While not designed for the rapids folks run on weekends these days, their boats were super effective for hunting trips crossing open seas. So how did we get from there, to today's super-fast, rotomolded boats?  
1700
In the 1700s, birch bark was the primary source of material that Native Americans used to construct their canoes and kayaks. There was commendable skill put into the design. Even though they may have been primitive, they were able to take on anything from rapid streams to quiet waters along the coast. 
When the fur trade was in its early stages, European craftsmen and trappers purchased these bark canoes from Native Americans to navigate the waters. Later, French craftsmen would follow up with their own interpretations, including internal wooden frames to provide structure and canvas exterior acting as a shell.
1811
Fast forward to 1811, a group of travelers set out to take on the Snake River in Wyoming, but backed out as the rapids were too rough for their equipment or skill set. Lieutenant John Freemont and Horace Day were the first ones to engineer a rubber raft in 1840 in another attempt to challenge the Snake river – but once again failed.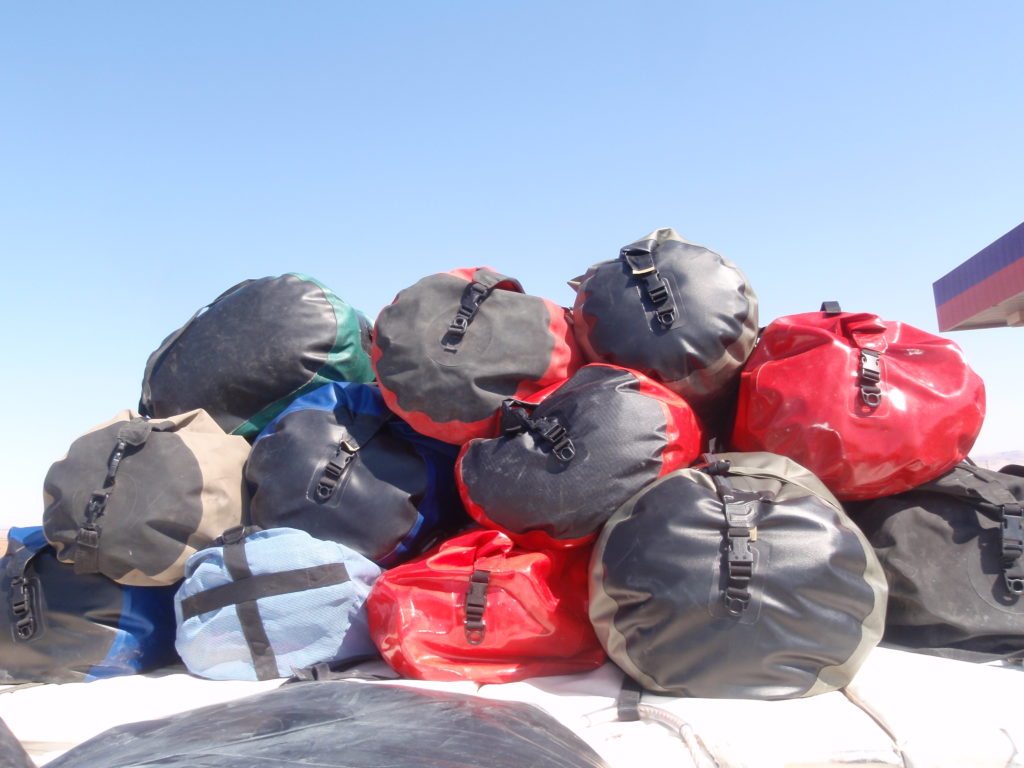 1869
The next phase in design development came in 1869 and 1871 from John Wesley Powell's scientific survey objective to study the Colorado River drainage system. They used wooden boats which made for a very trying journey, but would go on to set precedents for commercial river running. 
1940
Fast forward again some 70 years to the 1940's, where the next technological advancements would come into play. While paddling recreationally had been somewhat popular in the early 1900's, it wasn't until the 40's where fiberglass and aluminum materials were used to craft kayaks and canoes, and synthetic rubber on rafts. In the West, rafting was growing in popularity. 
In July 1940, Clyde Smith successfully traversed the famous Snake River Canyon in his homemade rubber raft – deemed the first successful whitewater rafting feat in history.
1950
The 50s gave way to new techniques being developed as well as the rating system we use to this day – Class I-VI. The first commercial raft trips took place in Grand Teton National Park using surplus war rafts that were 27 feet long! 
1960
The 1960s saw improvements and developments in techniques and boat design, as well as more challenging rapids being run. As the number of people participating in commercial rafting grew, so did the number of commercial rafting companies and river outfitters. 
1970
In the 70s, things started to really pick up. Whitewater rafting was gaining popularity and was being shown to wide spread audiences through media, including movies like Deliverance which was released in '72. The same year, Whitewater sports were included in the Olympics hosted in Augsburg, Germany.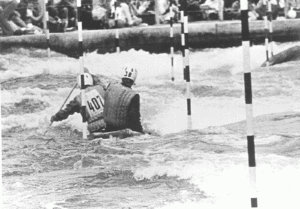 Folks also started getting more stylish in their boats – kayakers were surfing waves and getting bold playing in holes rather than rivers. This is when Playboating found its footing, made possible with the invention of the plastic kayak – substantially stronger than its wooden predecessors.
1980
Growth only picked up speed during the 80's, with the introduction of dry suits extending boating seasons to colder times of the year. Innovative takes like squirt boats and self-bailing floors were also coined, which was notably the most crucial design innovation of this period. It brought improved safety by discarding the need for manually bailing water that got into the boats, using a design that allowed gravity and momentum to bail the water itself. 
1990
Instructional books, videos and media started to take place as whitewater became a full fledged industry and gained major mainstream attention. By the 1990s, an estimated 14.8 million people had taken to recreational whitewater rafting and kayaking, with its inclusion in the 1992 Barcelona Olympics and 1996 Atlanta Olympics.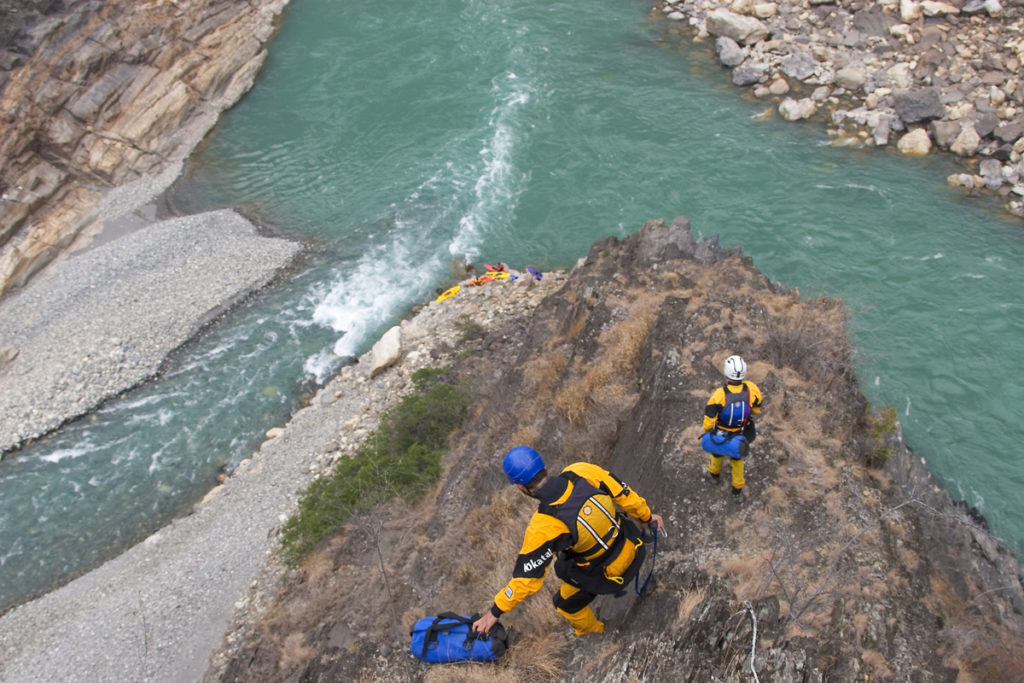 1995
Watershed was born! Founder and CEO, Eric Revels, needed a waterproof bag that was truly airtight and submersible. Since then, the Watershed bag closure system has been tested by the US Navy to 100 meters submersion without any leakage whatsoever. Our bags were immediately embraced by raft guides and whitewater kayakers. Over time, Watershed bags have gained popularity with sailors, surfers, fly fishermen, offshore fishermen, hunters, scuba divers, and oilfield workers.
2000
The Watershed Military Line began. In 2000, the US Navy SEALs asked Watershed to build a custom suite of waterproof bags for military applications. Since then, we have provided a line of military-specific waterproof bags to all branches of US Special Operations as well as NATO and other allied forces on every continent.
Read the whole story of Watershed's begnnings here: THE WATERSHED STORY
THE WATERSHED STORY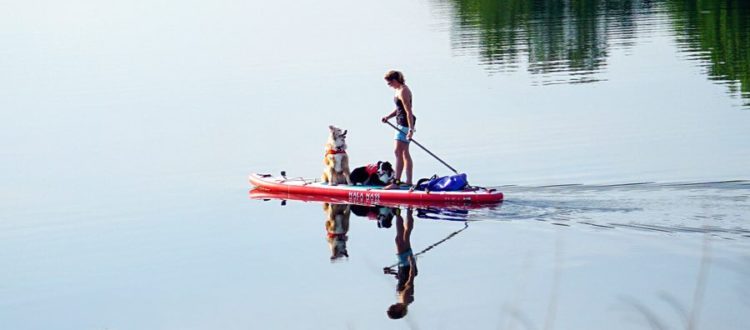 The next time you're out on the water, put yourself in the shoes of early trappers and pioneers who had to commandeer the roaring rapids before you in nothing but a bark kayak, and little insulation wear. Similarly, while you're out on your SUP this summer with friends or family sipping brews, hark back to its ancient roots of travelers who used long sticks as paddles while resting on rough boards woven from wood.
Most importantly, don't forget to appreciate your Watershed Drybag for keeping all your belongings dry and safe under any circumstance! We'll save marveling at those technological advancements for another time.