Tips for Paddling in the Winter
We know some folks hang up their boats during winter since the waters are too fierce and piercingly cold to brave – a fair, safe play. That doesn't mean that there aren't tons of ripe opportunities for braving some of the most intense rapids of the year. 
Winter is actually coined one of the best months for paddling due to higher waters and lower populations. That said, there are some seriously crucial precautions you must take to stay safe and warm.
View this post on Instagram
1) Clothing 
The classic phrase "dress for immersion" applies here, only tenfold. A base layer of snug, moisture-wicking undergarments, followed by larger insulation layers to retain body heat, topped off with a water-repellant shell. Last but not least, and arguably most important, is a kayaking dry suit. You may think that neoprene wetsuits are the best choice, but they actually lack the ability to prevent rapid loss of body heat. Dry suits are full-length jumpsuits composed of waterproof yet breathable fabric with seals at the wrist and neck to secure any articulated points of potential water-entry. 
We love Immersion Research's Arch Rival Dry Suit
As for your head, we recommend a synthetic-knit hat, polyester fleece or balaclava. Ideally, you'd opt for a neoprene hood for extra water protection with ample temperature regulation – whatever you can swing underneath your helmet! 
Big synthetic socks should be under your drysuit. Alternatively (or additionally) you could opt for some sweet neoprene booties. When it comes to your hands, pogies are super helpful, but if you're looking for more dexterity, neoprene gloves are the move. 
When it comes to basic equipment before any outing, check out REI's The Ten Essentials blog – breaking down each one in great detail.
Also, Paddle Boston's super helpful chart gauges appropriate clothing in correspondence to hypothermia risk:

View this post on Instagram
2) Managing the Cold
Beyond clothing, you should be ready to combat the cold by fueling your body to be able to brace and withstand the trying conditions. Warm fluids will help with your body temp, and staying hydrated is one of the most important things you can do. Eating carbohydrate rich foods beforehand helps as well to give you "more to burn" on the water, so to speak. Plus, they're delicious. Packing snacks in your Drybag goes without saying! 
Even if you're Poseidon's protégé – paddle with a buddy. We're all for thrill-seeking and adrenaline rides but safety is paramount in any outing.
Also, if you're confident enough to be braving these frigid rapids, we trust that you've mastered the roll – or re-entering the boat. If not, you'll want to get practicing because if you get immersed, time is of the essence. Be in constant communication with your paddle buddies on needing help or if you notice symptoms of hypothermia.
When air temps dip below 15 degrees fahrenheit, water will start freezing on your kayak and equipment. Stay moving to keep your body warm but also to avoid freezing on your rig – (gently) bashing the ice to clear your path is a good way to do so. 
Your PFD will also help by providing a smidge extra insulation in the case that you do capsize. If you need to warm up, chemical heat packs do the trick – and we mentioned hydration earlier, but having a thermos of hot water or tea can be super nourishing.
We love Astral's PFDs
SIDENOTE: Sea Quest Expeditions provides great tips and resources for readjusting your body should you begin to feel symptoms of hypothermia.
View this post on Instagram
3) The Water and Launching 
Your go to local rivers and lakes will likely be frozen over as we edge deeper into the colder months, meaning you may have to get creative to find a good launch. In this case, a good spot to consider would be where a stream or small river breaks into a lake. The faster, warmer waters will make for easier embarking and clearing a path. 
It's possible that the ice won't give way and you're looking down an open water path too narrow to traverse. In this case you may have to brace on the ice – when doing so, try to avoid clear, water-logged ice as it's far less stable and may cause you to capsize if leaned on. From there you'll do your best to scoot along the ice, avoiding doing damage to the paddle.
In general, it's best to avoid water during windy weather or high wave activity. It could only take one unlucky chunk to land in your lap and potentially flip you. 
Additionally, the thin layers at the edges of ice bodies are something to be cautious of. Should the paddler capsize, it's possible for the current to drag them under the ice making rescue or surfacing that much harder. 
If you find yourself needing to brace on one of these surfaces, exercise extreme caution.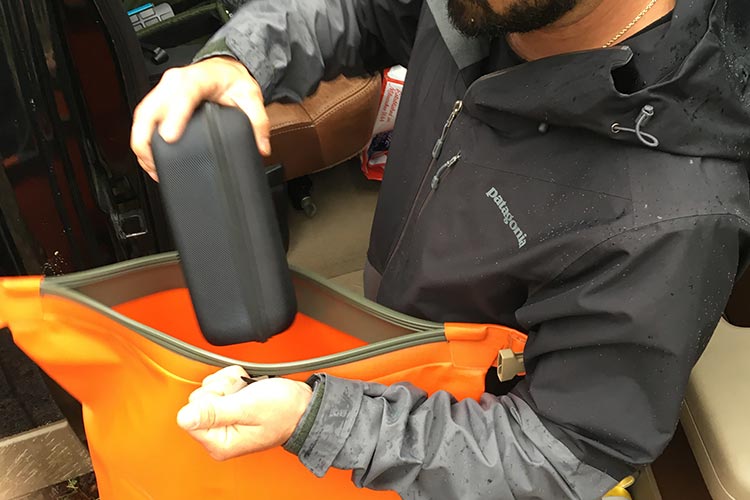 You take all of these precautions to keep yourself safe and dry – so why not take the same measures to protect your most precious belongings? When it comes to a bailout bag, there's no better choice than our duffel line. 
One of our Ocoee or Chattoogas will be the best option for compact, below-deck storage, powered by our unique construction and manufacturing to ensure no leaks or punctures are possible. We're a hit with the Navy SEALS for a reason!
Stay warm, stay safe and have fun!