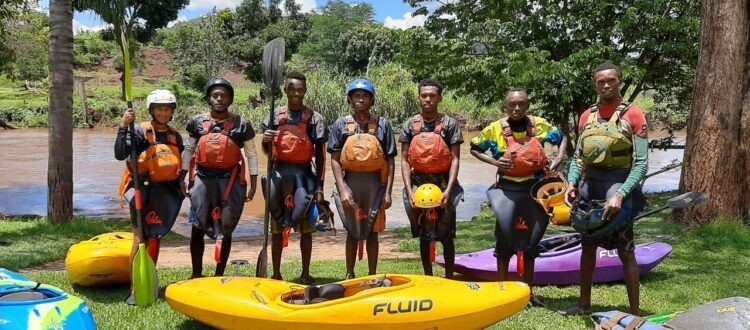 Savage Wilderness Youth Group Program
By Glenn Richards, Senior Instructor at Savage Wilderness
As 2020 comes to an end, we can reflect on what has been a challenging year for the world. The global pandemic has forced people into uncomfortable and unfortunate positions. Many have lost their jobs and been put on travel restrictions, while many children are stuck at home forced to participate in virtual learning unable to see their friends or attend school in-person.
Effects in Kenya
Located in East Africa, the country of Kenya has also suffered a tremendous amount. Having a heavy reliance on tourism (Kenya is the number one destination in Africa), the country has been forced to rethink the future. Unable to sit back and do nothing, Savage Wilderness, the Adventure Experts, has taken the effects of the pandemic and channeled it into something positive. Introducing, 'Savage Wilderness Youth Development'.
What is the Savage Wilderness Youth Development Initiative?
With the support from Watershed Drybags and Immersion Research, the initiative originally was to support a Kayak School. However, as the project progressed the opportunity to take it further could not be ignored. Through exposure in the outdoors, the 'Youth Development' aims to teach our local youth life-skills which not only are applicable to outdoor travel but are necessary for a meaningful and impactful life.
What We Teach
The initiative meets once a week and leads a group of 20 boys and 18 girls to the Savage Wilderness camp. The itinerary changes from week to week. Some days, we will work on a variety of different skills and activities around some fundamental professional skills like public speaking, leadership, creative writing, and an introduction to resumes. On others, the youths will have access to a range of outdoor activities like kayaking, SUP, Rafting, Mountain Biking and Climbing.
What They Learn
The combination of working on professional and recreation activities has helped the kids improve a variety of personal and social-emotional skills such as:
Confidence building
Comradery with their peers
Communication
Leadership
Although still in its infancy, the feedback so far that has been received has made this work incredibly rewarding and meaningful. As a company and community, we see the fruits of our labor through the improvement every week from these impressive youths, and we can't wait to see what's to come.
How You Can Help
As with any initiative such as this, it takes a village to make it happen. Currently, our budget covers all outdoor gear rentals and coaching, life skills taught by external, qualified leaders of the community, food (that includes at meat at least once a week – usually the only opportunity the kids have to eat meat), and additional courses we have in the works for down the road.
If you are able to help and are interested in supporting the 'Savage Wilderness Youth Development' please go to our GoFundMe page for more info on:
The Curriculum
2020 and 2021 Budget
Program Overview
Current Updates
or click the button below.
A contribution of any amount (literally $1!!!!) can really go a long way to supporting these disenfranchised youth, and help instill confidence and life- skills while appreciating our natural world.

From all of us as Savage Wilderness, Watershed Drybags and Immersion Research – THANK YOU!
About Savage Wilderness
'Savage Wilderness has been delivering adventure activities in Kenya for 30 years! Adventures on the rivers and on the mountains! Ensuring each individual is having a safe, enjoyable experience!'