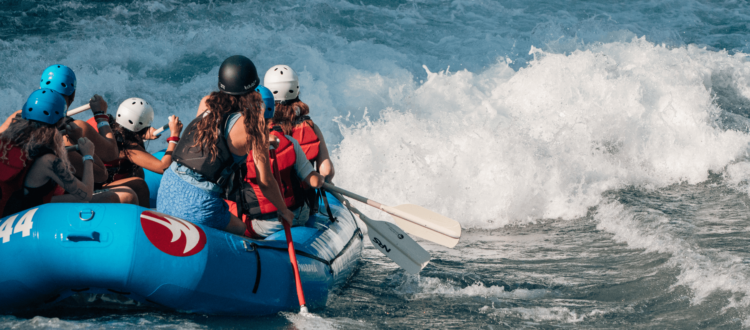 A Dive into the U.S. Whitewater Center
Do you live in Charlotte, NC or the surrounding area? Have you been looking to sharpen some of your paddling skills from beginner to intermediate? Maybe you and some friends and family have just been looking for a fun time that blends the convenience of a theme park with immersive, outdoor experiences!
Look no further than the U.S. National Whitewater Center (NWC). It's a 501(c)(3) nonprofit organization that's been promoting access to the outdoors through the Whitewater brand since 2001, opening the facility in 2006. It's also home to the world's largest artificial whitewater river.
They sell individual $64 day passes that grant you all-day access to a number of facilitated activities such as: rock climbing, mountain biking, whitewater rafting, flatwater kayaking, ziplining and adventure courses. 
The property encompasses a whopping 1,300 acres, meaning you probably won't be able to do everything in a day. However, we love that the sheer mass of the park, and the level of detail across activities, allow for every visit to be a new adventure. We'll help break down all the activities and amenities so you can plan a full day of fun at the park. 
All Things Paddling
Under the wing of a professional guide, you can sign up for structured whitewater rafting courses that range from Class II to IV whitewater routes. They offer four different sections: Instruction, Freestyle, Wilderness and Competition Channels. The NWC helps by outfitting you with paddle gear, PFDs and helmets. Book reservations and checkout pass pricing here!
While the same courses are available for whitewater kayaking & stand up paddle boarding (SUP), the programming is different. The NWC has designated most kayaking activities for experienced paddlers who have their own gear and experience with Class III whitewater. That said, kayaking instructional courses are available in private lessons or in groups. Learn more about NWC Kayak Instruction here. 
Looking for more of a chill float guided by NWC staff? Flatwater kayaking and SUP that takes place on Long Creek and Catawba River is also offered just outside the main park on the western shore. 
Reaching New Heights
Want to see and soar across the park from above? Five zipline routes allow you to do so, each offering different views and velocities! Two of the five routes (Double Down and Figure 8), however, require a $10 reservation in addition to a day pass. This could be a super fun way to kill time while others in your group finish up a paddling course or get a bite to eat. 
Looking to see the heights from a different point of view? The NWC is also home to the world's first deep water solo climbing complex. With five walls ranging from 20 to 45 feet in height, climbers can challenge themselves with tough routes then take a joyous plummet into the cool blue pool beneath. This activity is recommended for semi-experienced climbers with swimming skills. 
If you don't want to make a splash, they also offer one of the largest climbing facilities in the East coast – with options of top-rope, bouldering and sport climbing. Ranging from easy to very difficult, the complex features 35-45 top rope routes, a 46-foot-tall spire and nearly 50 bouldering problems. 
Speaking of ropes, elevated rope activities are available. They're complex courses built into the trees or utility poles, where you traverse obstacles of varying difficulty. Harnesses attached to safety lines give you peace of mind as you and the crew conquer fears of heights. Eight different courses let you choose your own journey to overcome. 
Last but not least, take a leap of faith with the NWC's belayed free-fall jumps. Hawk Island, located in the center of the park, features a 100 and 60 ft jump, while the southern Ridge/Canyon offers a 30 ft one. 
Adventure & Recreation
Maintaining over 50 miles of trails, attendants can utilize them for trail running, hiking or mountain biking, all without an activity pass. However, an activity pass will get you a bike rental with upgrades available at additional cost. The trails are so beautiful and well maintained that you'll forget you're even in a park. 
From May to September, you can even participate in over 280 yoga practices offered daily. Looking to cool off real quick? They even offer yoga sessions that take place on SUP. 
Come fall, the NWC converts their whitewater channels into an ice-skating course available to all ages and skill levels. Their central ice rink has grown to encompass 24,000 sq ft., and includes two free skate zones and two ice trails. It shouldn't come as a surprise at this point that the NWC also has an on-ice airstream that serves hot and cold drinks in the center of the converted pond. Ice skating is available from mid-November through mid-February!
Events, Music & More
What a crazy day you just had paddling, climbing, falling and then some. If you aren't too beat at the end of the day, NWC puts on some seriously fun live concerts and events with plenty of awesome options for food and drink. 
Throughout the year they host large-scale festivals featuring live music, fireworks and even races. On every Friday in October and April, they also host the Whitewater Film Series, airing a wide range of outdoor lifestyle films from around the world. View their full yearly event calendar here. Side note: with the $6 all-day parking pass, you can show up just for these events at any time!
From catering and full-service restaurants, to grab-and-go outlets and adventure dining, the park has no shortage of grub to choose from. Refuel at any point throughout the day on the fly or sit down and enjoy a beer at the Pump House Biergarten. 
Planning Your Visit 
There are surely a few things we missed when covering the gargantuan scope of activities to participate in when attending the park. That's where the park's Plan Your Visit page on their website comes in handy. 
Get a look at what various activity passes cost, a Daily Activity Schedule, Facility Map, accommodations and more. 
It's truly fulfilling to know that the NWC does such a great job of fostering a fun, safe environment for people to indulge in a wide range of outdoor activities, with so many levels of difficulty and scale. The staggering number of amenities that go the extra mile to ensure you're comfortable is impressive, all while building camaraderie and a sense of community. Whether you're an expert who's fine-tuning their skills, or a newcomer just looking to leave your comfort zone, the NWC wants to see you thrive outside and have a blast doing so. 
Plan a trip with your friends and family today, and take your new skills to the wild!