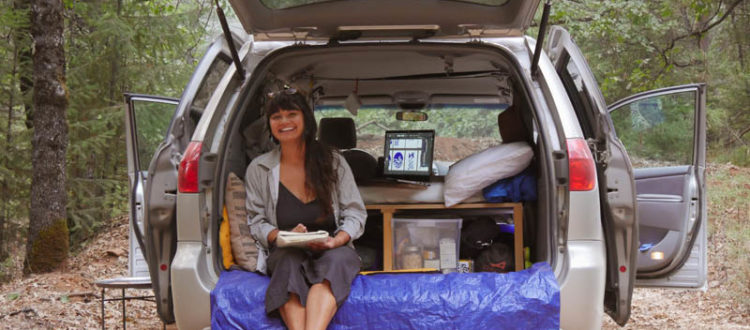 Designing Our Anniversary Logo: Kayla Lopez
As you may have seen by now, September marks our 25th Anniversary! 25 years making the best of the best 100% submersible drybags for any adventure you can throw at them. Aside from our top quality bags, we've been lucky to have some of the most talented, water-inclined individuals rep our Team over the years as well. So, it only seemed natural to ask one of these awesome Team Watershed shredders to help us design our 25th Anniversary logo.
View this post on Instagram
Kayla Lopez – Stay Sketch Designs
Aside from being a rad kayaker, rafter, and advocate for our watersheds, Kayla Lopez is a maker, artist and illustrator. We first discovered her talents after she shared an image of some Grand Canyon-inspired doodles on their rafting trip's recycling bags (see above).
I have been a maker, scribbler, and adventurer even since I was little. I got my B.A. in Art at UC Santa Cruz, and have 4 years of working as a professional artist. From small sketches to large scale projects, my art is a reflection of my current surroundings. I hope to give a voice and awareness to environmental hazards, and document travels in a creative way.

I cannot be found without a sketchbook and pen, however I regularly create using oil paints and illustrating. I have spent the past four years working in Graphic Design and growing my fine art skills alongside that profession.
No stranger to adrenaline, when Kayla's not designing, she's riding her motorcyle, skiing, hiking, or just generally lifting up other women on and off the river:

Oh – and shes' all about that #VanLife too, living and working out of a sweet rig in California.
Her Process
Here's how she created our 25th Anniversary Celebratory Logo in a mere 1 week:
"As I was hoping in the back of the work pick-up for a day of surveying, I received an exciting message from one of my favorite companies. Watershed is having their 25th Anniversary this month, and I was asked to design a logo for them! Despite a 40 hour work week of capturing data to help the local watersheds, wedding photos to edit, living in a van, I knew I could make it happen.
I had to cut my four-week logo design process into a mere week to make the project happen. Challenge accepted! I figured I could wake up an hour before work to sketch ideas alongside my morning brew, and then after work I could wind down with a few hours a night of design work. I usually say sleep and good food fuels a healthy lifestyle. However, in these moments I only need passion and excitement to get things done. Is this what makers do?
So that is what happened, I spent my mornings doing my usual process of many scribbles in my sketchbook, toned with accidental coffee spills. I usually spend my weekdays living at a in the middle of the mountains for my other job. After a dusty day of work measuring stream beds I washed up in the trickling creek, drove into the nearest town and became absorbed in hours of designing. Thank goodness for public library wi-fi and car inverters!
After the work week was over, I drove back to a town a few hours away, where I have a room I use to design in and occasionally fall asleep. Despite the mini van office, there is nothing that replaces a good desk with all the tools at one's disposal. I could spread out all the sketches, and use my second computer screen to easily layout all the logo versions.
The design was very natural for me. I have been a fan of Watershed bags for close to eight years, as soon as they became the go-to bag for everything in my life. Life gets wet, and as an artist, it's important to keep things dry! (Although I recommend not carrying drinks inside your bags.) As an adventure designer and boater, I am already constantly sketching water. I have loved the Watershed logo for its relation to the company's roots… the rivers. The Grand Canyon, to me, holds a deep wealth of whitewater experiences and river history. When designing the 25th Anniversary logo, it felt right to capture a sense of the canyon walls and the ripples from the company logo. I have been feeling more comfortable leaning into my sketchy style that makes me happy and recognizing it may make others happy too! It's been a hoot to be apart of the Watershed team and work together to propel the stoke of adventure and art."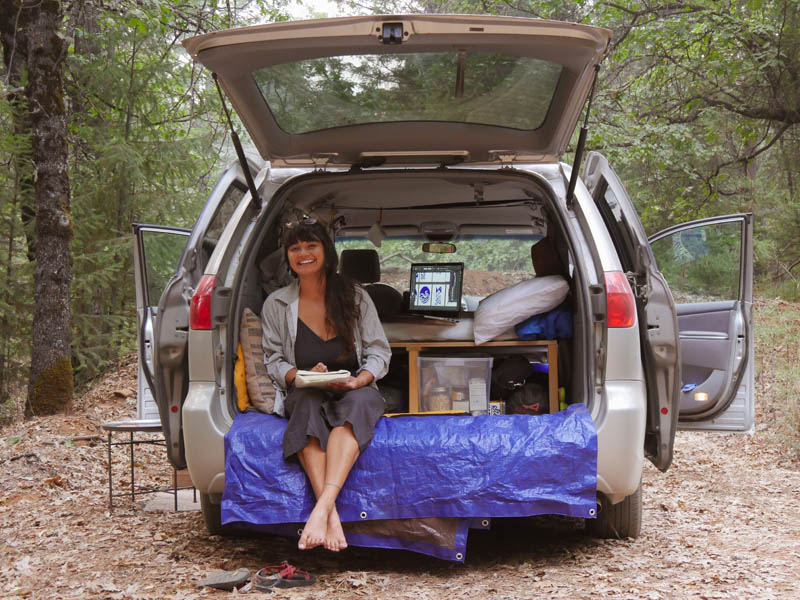 For more on Kayla, check out:
Her personal Instagram: https://www.instagram.com/kayaklopez/
Her Artist Instagram: https://www.instagram.com/staysketch/
Her Website: https://www.kaylalopez.com/
And, of course, the finished product!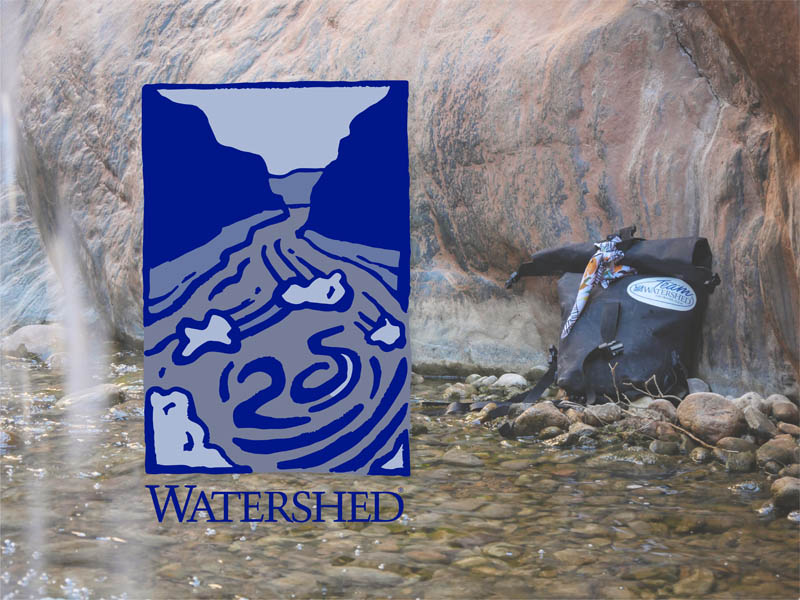 For more of our 25th anniversary content, check out: