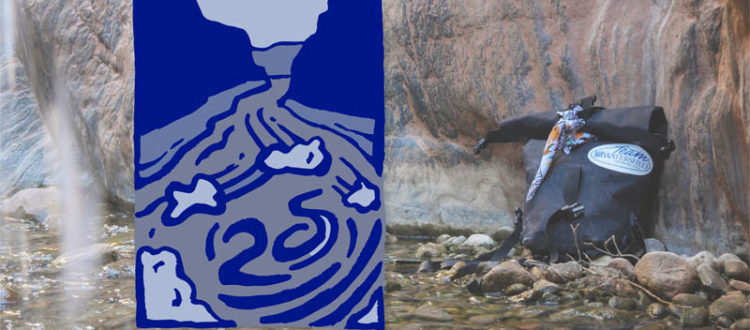 Watershed Drybag Memories: A Collection
As our anniversary month is drawing to a close, we thought we'd leave you all with some epic memories from our lifeblood: our faithful customers! We have spills, we have thrills, we have super dry cell phones. Read on for some recent submissions from our socials – and be sure to follow us on Instagram and Facebook to share yours, or read more!
View this post on Instagram
"I have a watershed story – during the rain season we were paddling hard all over central Kenya. We were on the Rupengazi. The team was discussing where to put the car keys, and one of the guys recommended keeping it in their BA. Others said to keep it in the dry bag in a boat, but someone had a bad experience of the bag falling out with the car keys in it. But we all said we will be ok and kept it in the dry bag. Inspecting one of the rapids, Sammy placed his kayak on the edge of the bank. Only when I was getting out and thinking, "That's not stable," trying to move my kayak in a good location – Sammy's kayak slides into the river! We all started to run down the back and jump back into our boats. We reached Sammy's kayak – however there was no dry bag in it. We wondered if Sammy had the bag and was running with it on the other side. After some time looking for Sammy, we found him, but not the bag. The bag with car keys and about three of our phones was still missing. We decided to split the group into two.

Half the group went and re-traced the section we'd paddled through, whilst the rest of us continued down the river. After about an hour of paddling we came across the bag in a calm section of an eddy! Everyone was relieved! But lesson learned – place the bag more securely in the boat, place your boat in a better location on the bank. Don't have all the kit in one bag. However everything was still dry and in good condition!"
View this post on Instagram
From
@loffbri
on Instagram: 
"So there we were… the flow cast for the salt river had been so low we feared we wouldn't be able to do the wilderness section. So we asked for rain and more snowmelt, and about a week before our launch, the flow cast spiked on Friday the 13th. *Eerie* But we were keen on making this trip happen. We watched as it forecasted 7k, 9k, all the way up to 11k on that day. Nervous, we continued to watch and wait. Three days before it settled on 8k, which we felt comfortable doing since two of us had seen it at 6k before. On the river Thursday night we watched as the river "surged" – the muddy waters coming in and out of our beach at camp and slowly eating away at our little slice of river front property. The next morning it was still rising, but it didn't feel that much bigger and another group floated by us as we rigged the gear boat. We hopped into our boats and set off for jump off canyon – the section where the river constricts and three consecutive class IVs challenge you.
We came around a bend in the river where we knew the first class IV was hiding – the maze. When we had stopped to scout it on previous trips, a U-Haul truck sized rock in the middle of the river posed as the biggest obstacle. This time the rock was gone, replaced by an angry pour over. That was when we knew the river was past 7k, even 10k. The guide said the best line was to go right of the rock, but all the eddies to scout had been blown out and we were too close to the pour over to make it river right without fearing hitting it dead on.
We went left and the water began pulling us to the pour over. Desperation kicked in as I pulled on the oars, but it was Friday the 13th after all. We caught the left edge of the pour over – hard enough to eject both myself and my passenger from our 16 foot gear raft and watch as the bucket boat flipped in front of us. I came up and everything the water around me was rough and brown with soil. The gear raft booked it and our second boat couldn't stop it or pull it into a piece of calm water before the next class IV. They don't call it jump off canyon for nothing. 
The crew that passed us in the morning picked us up and took us in for the night. All the other camps reported our upside down raft still booking it downstream. One camp even was almost able to grab it when an oar snagged on some tamarisks outside their camp. That night around the campfire, our new friends and us wondered where the boat could be. Some guessed snagged in tamarisk, others wondered if it was being recirculated at a low head dam above the reservoir. Meanwhile the water behind us continued to rise another two feet behind us. 
The next morning we set out to hopefully find our boat before the take out. Fifteen miles downstream from where we flipped we found our boat and all our gear tangled up in a gnarly strainer. Watershed bags strapped on underneath floating up to the surface where we could see them. The river here normally was a huge bend in the river, but at these high flows had formed another channel cutting a straight path through the bend. Our boat was stuck where there would normally be a beach, but was now a river. After a few passes at the boat our crew that had picked us up had to leave. We thanked them deeply and were left to the longest and coldest night of our lives on this beach. We hoped the river would drop enough overnight that the channel would drain and we could walk to the boat in the morning.
The next morning the strainer was worse and the channel of water running through the strainer was smaller and stronger. We made one last pass at it and then bid it farewell. At the takeout we were rudely dumped into a world terror stricken with coronavirus. Somehow we managed to still hitch a ride to our vehicle at the put in.
Four days after the incident I received a voicemail from a Durango, CO number that they had recovered our boat and were expecting us at camp 2 (the guide camp) with lots of beer. After exchanging beer for all of our gear, I opened up my Watershed bags to find them bone dry after four days spent submerged in a strainer. Every penny spent on those bags was worth it. Needless to say I'm a happy river rat and life long customer for Watershed Drybags!"
View this post on Instagram
 "I first touched an old Watershed Drybag back in 2017. I was working as a cameraman on rafting trips at Savage Wilderness – it was an old bag but it never disappointed. I used to carry my first aid kit and the camera in it. Most people couldn't believe it was waterproof for it's old looks – but with the love I gave it – I worked for 2 good years with it. Thanks Watershed, your bags are amazing"
View this post on Instagram
"Rowing straight into the heart of the hole I was supposed to miss while running my first class 4 years ago, and coming out right side up with totally dry clothes in my bag." 
View this post on Instagram
From @n8_jeff on Instagram
"Was on a multi-day raft/kayak trip down Middle Fork Salmon in Idaho. Late in the day, approaching the designated camp spot, a gear raft flipped and went beyond camp. Myself and other kayakers sprinted for it and secured it to a tree too far downstream. It spent a lonely night upside down as we hiked back to camp.The Watershed bags on it stayed dry while submerged over night. The others? Ehhh.😉"
"Two friends had their full setups stolen while running shuttle on the East Branch of the Sacandaga. It was a crushing financial loss. I started monitoring used gear sites. I found it on letgo out of state. Identified by my friends name and address on a good old watershed bag in the photo. Watershed always comes through, even in unexpected ways. They have since been reunited with the gear and the hero watershed bag!"
"My husband is a first responder in the local Search & Rescue. His gear has to be able to withstand rescue operations on class-five whitewater rapids to -20F snowmobile rescues. Last winter, he strapped his Watershed bag to the back of his snowmobile, and it withstood the ice and snow perfectly! And, on the river this year, his gear has remained dry!"
View this post on Instagram
"Day 3 on the Grand two years ago, one of our boats got loose overnight. We woke up in the morning with one less boat than the night before. Long story short, after a panic and scramble we found it some 18 miles downstream with 3 Colorado bags perched on top in the first beam of sunlight to hit the river. Nothing was tied down but everything was there. Some good river karma was spent that day for sure."
View this post on Instagram
"Just came off a 16-day canyon trip. I limited myself to two drybags. Packed everything I needed in my Watershed Animas and Chattooga. No fiddling with a sandy zipper. No risk of leaks. The only matched luggage a girl needs."
View this post on Instagram
"Flipped at Hermit Rapid in the big ditch last August. All of my candies and camp snacks were in the outfitter provided, NRS dry bag. The rest of the boat was all rigged with Watershed #getwetstaydry. Guess which bag soaked…I lost all my candy for the remaining 11 days. Even my Aleutian deck bag (which doesn't double over) stayed dry."
I got caught and flipped a boat in Cataract Canyon on the Colorado River at around 50,000 cfs. Plenty of gear ended up at the bottom of the river and almost everything soaked… except my Watershed bag! The kicker was that I hadn't even properly closed the damn thing! Just a half assed seal and then buckles. It's the finest piece of river gear I own.
"I had my Ocoee bag in the seat and my boat was pinned for an hour with 600 cfs pounding it… but no need to guess, all my stuff was as dry as when I put it in there!!!"
View this post on Instagram
"Flipping in chittam on the Main at 30k and all my gear staying dry 🙌🙌🙌"
View this post on Instagram
From @lilwin on Instagram on Instagram
 "I have owned a handful of Watershed bags over the years but my most extra special blue Ocoee bag once belonged to @annaclevesque so it's full of good juju. It is probably 10 or more years old, It has patches, a half broken buckle and unidentifiable stains inside. I have lost it a few times (recently left it at Cowbell) and it has been returned every time. I use it all season on the Nolichucky as a raft guide and it's still super dry every day."
We know there are so many more great stories like this out there, and we love hearing every single one. It's safe to say that our Drybags have got your back when you depend on them most. Always feel free to shoot us a message on our socials with your Watershed Drybag story, and here's to 25 more years of getting wet and staying dry!