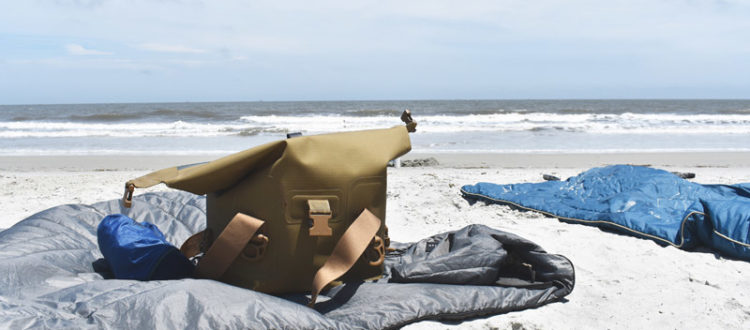 Camping on Hunting Island State Park – Our Perfect Start to Camping Season
By Ashley Hardison,
After a handful of camping adventures were canceled due to the pandemic, we finally found ourselves on a rustic beach-front campsite on Hunting Island State Park, the single most popular state park in South Carolina. Just 50 feet off the dunes, we nestled our canvas tent under a menagerie of slash pines, live oaks and cabbage palms that gently welcomed us with an ocean breeze.
While setting up camp, I caught a glimpse of a raccoon meandering his way through the campsite beside us. His paws draw up onto the tent as if peering through a window (the first rule of tent camping is no food in the tent, ever). Searching for a crumb but falling short, he scurries through each campsite until successful, robbing a man's lure bag and retreating to the safety of the lagoon. Once securing our necessities, we head to the beach to shake the hours spent on the road, welcoming our first family vacation of the year.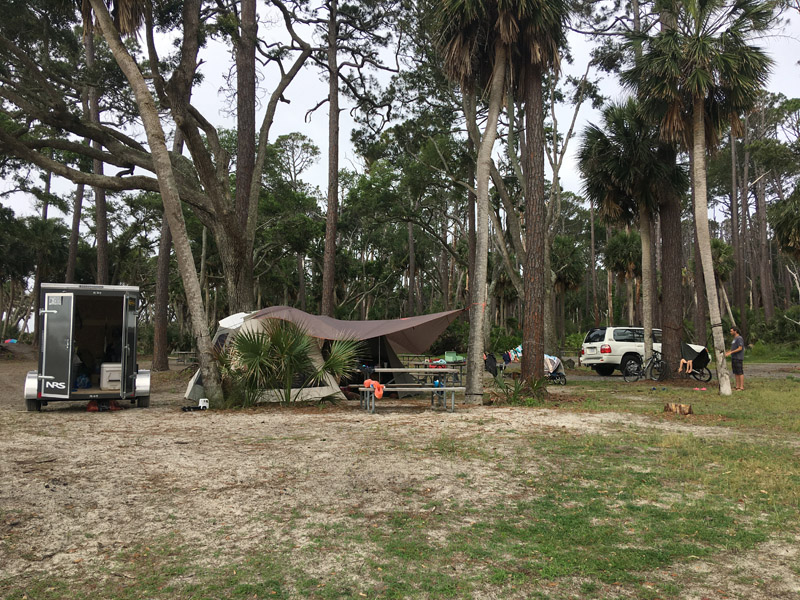 We woke up to picture perfect weather. Full sun and a breeze that gently rolled over the Atlantic made the heat merely a song in the background. The kids begged for a morning walk, which I would normally push off until after coffee, but the beach is our backyard – literally. Our feet scuff across tide stricken sand and with our necks bent, we blend in with every other daybreak shell-seeker. We mosey through the ocean's gift of freshly surfaced shells as the kids play tag with the waves, exchanging giggles.
With breakfast and coffee behind us, we're on the hunt for an ocean view. Hunting Island provided five miles of beach front, so finding a private spot wasn't difficult. As we crest the dunes, we spot a vacant section of beach for at least 500 yards in either direction. Pure bliss. Our day was spent holding the hands of our littles as they jumped waves with permanently stamped smiles, spouting laughter of joy as they were tossed high into the air – "Again, again!".  We built sand castles with moats to catch little minnows, found unicorn horns (auger shells) and mermaid hair (seaweed), and chased sandy giggles, capturing each beautiful moment with my camera. All the while, I was thankful that little hands cannot figure out the zipper configuration of my Largo Tote. By the end of the day, we were as tired as our five and three-year-old. How did we vacation before kids?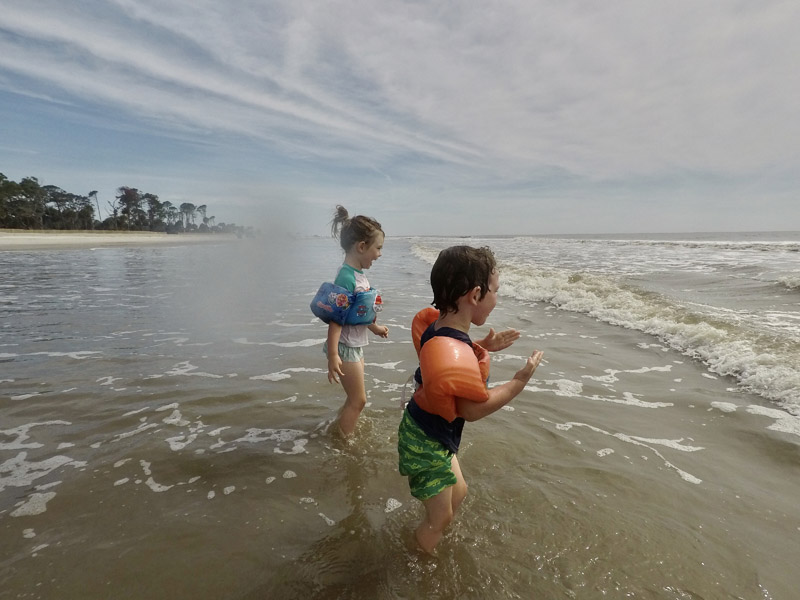 The kids traded bedtime stories for chasing tiny tree frogs. A few lucky frogs were caught and serenaded by Bob Marley's "Three Little Birds", the kids' favorite lullaby since they were born. As the clear night fell over us, my husband and I found ourselves in the hammock stargazing with a well-earned glass of wine. Unknowingly, this would be the last clear night for several days.
The next morning, waking up to bustling canvas and roaring winds made sleeping in – from the cozy confines of our tent – simply a dream. The sky looked flustered with thick grey clouds, accompanied by gusts that were less than inviting. Angry winds made propane-cooking impossible. We moved our stove within our vestibule but despite all efforts, continued to struggle with a consistent flame. Trying to take advantage of our equipment, we moved our stove into our enclosed trailer. Surely, this would allow us to enjoy coffee and get bellies full.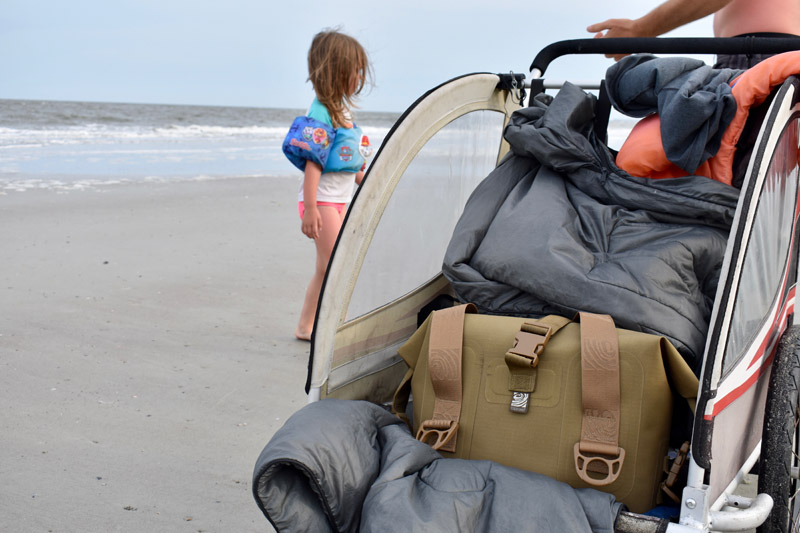 Realizing that we didn't deadman stake the tent, we placed a 50 lb container of firewood in each beach-side corner of the tent. Otherwise, our standard stakes wouldn't hold up to the wind, and only time would tell if it would be enough. We positioned our trailer between the beach and the tent, hoping it would absorb some of the direct wind. Had we looked at the weather, we would have seen that Tropical Storm Bertha was encroaching, but we wouldn't know this until after the storm had passed. Watching the wind intensify, we dropped our vestibule and secured gear. We watched our would-be camping neighbors pull into the site, only to realize that pitching a tent would be absolutely impossible in the wind. A few folks retreated behind the palms as the trees halted the harsh winds. We too had this option, but giving up our perfect spot wasn't something that we wanted to do, and breaking-down camp in 30 mph wind seemed just as crazy as setting up in it. So we stayed.
The kids slumbered peacefully through the night as my husband and I took on shifts of looking out of our tents' mesh doors keeping a check on the weather. Occasionally exchanging, "Are you awake?", we stayed up all night making sure not to get caught off guard. Safety is all we cared about and we still had the option of retreating to the vehicle. Thankfully, we made it through the night unscathed. Our tent was still erect and everyone was safe – however, the storm wasn't over. Waking up to the rain, we remembered we'd forgotten to pack rain shells. Regardless, we gave another day on the beach to mother nature.
Instead of sharing the walls and confined space of our 10'x10' tent, we spent the entire day exploring the underdeveloped back roads of the low country, uncovering hidden gems of the marsh, like Coffin Point. Eventually finding ourselves back at our site, we fine-dined in our Cruiser with IPA's and pizza. Easily sharing our kid's bedtime, we slept through the tail-end of the storm.
Upon waking up, curious campers approached to see that we made it through the stormy night okay. Given the past two days, it made sense, and the gesture was appreciated.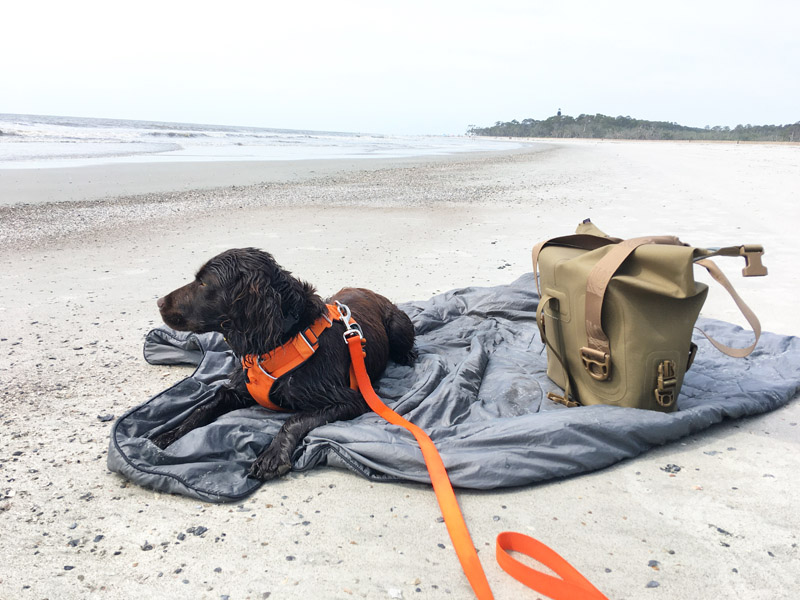 We've camped through a lot, but never through a tropical storm – one on the beach at that. Anxious to wrap-up the trip the way we started, we throw all of our gear into our jogging stroller and head back to our spot. We nearly make it to an ocean view and the kids are off into the horizon, running across the sand, giggling and chasing gulls to the water without a care in the world. In that moment, everything this trip delivered was totally worth it making the perfect start to the camping season.

Featured Drybag