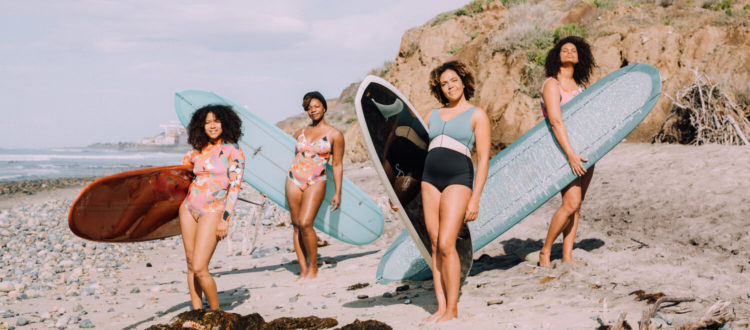 Textured Waves: Women of All Shades Riding the Waves
"The ocean has different textures and currents, its occupants reflect this diversity and should be aptly represented." – Words by the team at Textured Waves, an all-Black, all-woman collective created to disseminate the culture surrounding water sports for underrepresented demographics via inclusion, community and representation. 
Textured Waves was founded by four women – Chelsea Woody, Danielle Black Lyons, GiGi Lucas and Martina Duran – who wanted to challenge the historic norm set around surfing and water-sports for women of color. Advocating for diversity through a profound sense of community and camaraderie, they've fostered a unique platform for surfers and wave riders alike to come together to share thoughts, experiences and discuss issues women of color in the aquatic and outdoor industry face. 
Each located in a different region of the US, Chelsea, Danielle, GiGi and Martina have been met with a wildly heartfelt response and engagement, and have successfully created a diverse outlet that's brought together female Black surfers from around the country – a community that's flourished organically and naturally. 
Recently, they've put together a short film titled "Sea Us Now" that celebrates the self-acceptance and empowerment as African American water-women, and what it means to be one. They're currently some of the strongest figures for representation in the industry, and have taken on being a positive role model for future generations with commanding grace. Thoughtfully analyzing and taking inspiration from previous historical figures like Mary Mills – one of the gnarliest documented Black surfers of the 1980's – their blog features in-depth profiles of other iconic leaders of color in surfing and water sports. 
Sea Us Now from The Seea on Vimeo.
"We're reclaiming a place in the deep blue."
Pre-COVID-19, Texture Waves hosted community based events focused on enlightening other Black surfers to gather and celebrate their identity, discuss current issues and share profound experiences. They were also creative spaces for discussion surrounding breakthroughs in representation and diversity in the outdoor industry for Black women, as well as visions for what future representation should look like.
Jim Crow laws of the 1960's prevented African Americans access to many public spaces, beaches and popular surfing spots being just one of many. These types of economic stigmas and policies halted a generation of youth and people from approaching and participating in one of the most freeing, therapeutic water sports of surfing. While it didn't stop icons like Mary Mills, Andrea Kabwasa and Sharon Schaffer from shredding, their shining influence was shadowed by circumstances of the era. 
"May the waters of change greet us all"
Textured Waves seeks to cast a blinding light on the importance of their influence on generations to come, and to normalize the inclusion of women of color in a predominantly white water sports and industries. 
They're leaders of an ever-growing conversation, taking to social media and their own blog to give a platform to talk about these important topics. All the while, celebrating the unique style, identity and influence that African American water women bring to the table – and inspiring others to do the same. They're co-authors of a narrative that flows with the waves and the times, inviting others to slide alongside them. In a society that's failed to acknowledge the depth of Black culture, they're a massive wave that crashes and ebbs on the flat shore, leaving their mark on the sands and we can't wait to see more.
Interview with one of the founders, Danielle Black Lyons
How did you get into surfing, and what was the hook?
I gr
ew up body boarding in northern California in the Bay Area, surfing was always on my radar, but I never felt bold enough to try it. I didn't think it was accessible to me for many years and a big part of that was not seeing anyone who looked like me doing it. One Christmas in college I went home with a friend to the big island of Hawaii and her sister let me borrow her longboard for a few waves. Of course, I said yes! Having a background in catching waves made the learning curve less steep and I was able to catch my first waves there on the reef, with a green sea turtle gliding beneath me. That was the hook.
How did you meet/know your co-founders?
We met online. I think most POC are searching for their likeness when they enter a sport that is counter culture to their own. Once we found each other and formed a friendship we decided to meet in California to surf and hammer out the collective that would soon become Textured Waves.
What is your dream for Textured Waves – or can you speak a little on the journey you hope it takes?
Our dream is to hold surf retreats for women of color. We want to hold the space for women of all shades to ride the waves in solidarity, to bond in sisterhood and unpack past traumas that may have prevented earlier entry into aquatic spaces. We are seeking sponsorship for our retreats with an aim to reach that goal by next summer with plans to hold our first retreat in fall 2021.
Another longer term goal is to create a surf film with an all POC cast and crew. We want to show all facets of what representation in the surf industry should look like while elevating our local communities.
If you are a brand and would like more information on sponsoring Textured Wave's surf camps, please CONTACT THEM HERE.