Nolichucky Gorge-ous: an Overnight River Trip
By Ellen Wright, Team Watershed member 2020
On the border of North Carolina and Tennessee is a section of river that, in my opinion, is one of the best pieces of whitewater in the South East US. Now when I say best, I don't mean class 5+, white knuckled rapids, expert paddler only. I mean, beautiful, challenging, natural flow with different lines at different levels, take different styles of boats out there best. 

The Nolichucky Gorge is the section of river I'm talking about. This 8 (ish) mile stretch offers beautiful views, lots of wildlife, class III – class IV rapids, and a feeling of being remote that is harder and harder to find on rivers these days. My husband and I took the opportunity last weekend to do [my] first overnight, and it instantly became one of my top ten river memories.
The key to a good overnighter is not skimping on the camp items you want to have fun – but also not overloading your raft! We took some non-paddler friends down in our raft, so we leaned a little more towards the heavy side this time – always a lesson learned! 
The gear we used: 
Where and how to camp
While the Nolichucky has a few good options for camping, Lost Cove beach is by far the best, just below the rapid Railroad Wall. We woke up semi-early on Saturday, starting loading our Forerunner, dropped our chocolate lab, Goose, off with some friends and headed up to the river in hopes of getting on early enough to snag the best camping spot! It was beautiful, sunny and 80 degrees all weekend, so we knew we would see a lot of people out there.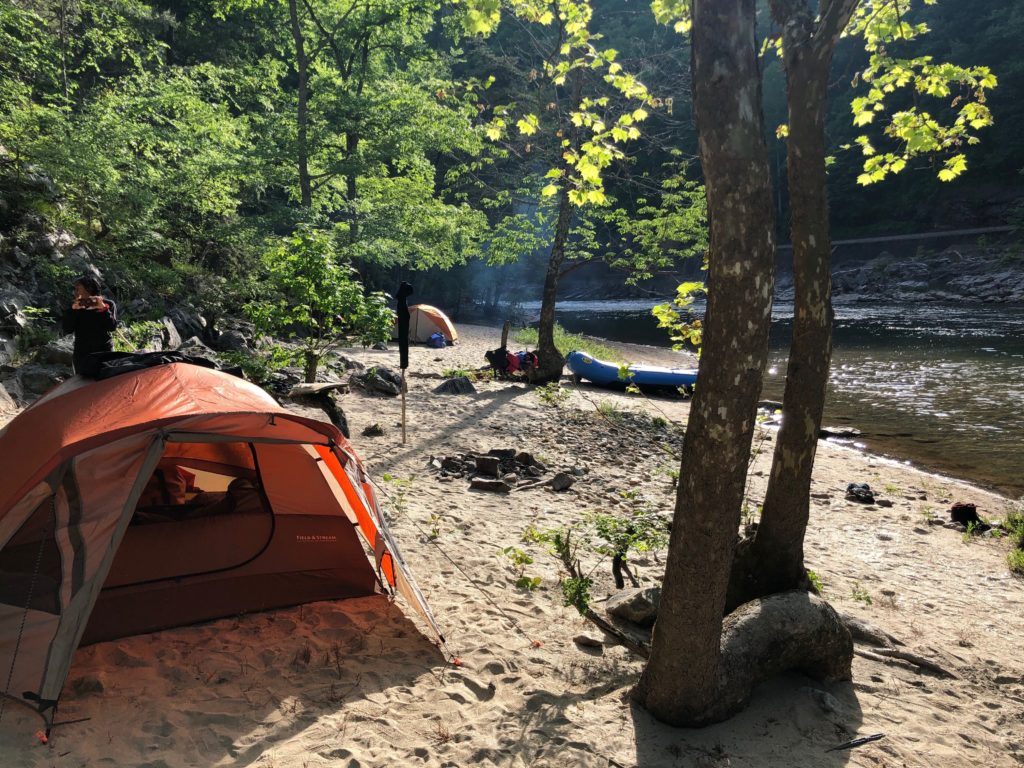 Another key part to a stress-free overnighter is not getting on the water too late – even though you'll be spending the night, you still want to be on early enough to not feel rushed on the water, as well as have the ability to get to backup camping beaches if your goal one is taken. 
The first few miles of the Nolichucky has some of its biggest rapids, and as a naturally flowing river, levels can change how these look drastically when it's raining (luck for us it wasn't). As we started to unload and rig our raft, the water level was around 2000 cfs, and dropping slightly – a good level. We used our Watershed Duffels, the Yukon and Colorado, for the bulk of our camp stuff, clothes, tents and sleeping bags. Another key overnight tip: not 1 but 2 coolers! We used a smaller bag cooler for waters, snacks, and beverages for easy access during the day, and our YETI for backup waters and beverages as well as our dinner, and that stayed closed throughout our trip so we didn't risk the food going bad!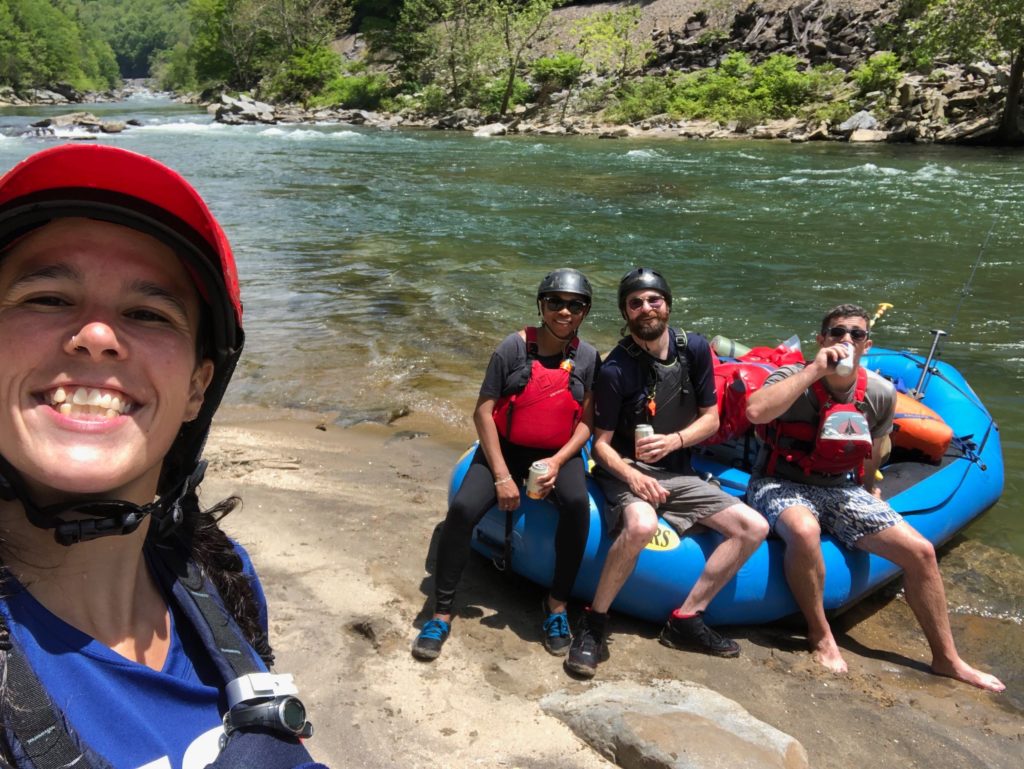 As we started to pack our raft, we realized we may have gotten a bit carried away with the gear, the food, the camp stove, the snacks, and the water jugs… but it all tied down nicely in the end, along with my kayak adding a few bags, and of course our fishing stuff! 
The Rapids
We made our way down the river with no issue in Last Chance, the first rapid. As we went through On-the-Rocks, we started to see a crowd around the corner at jaws, our first sign that others had a very similar idea. It's easy to distinguish rafts on the river that are out for the day and out for an overnight, so as we came around the corner to Jaws – the surf wave rapid a mile in – it was easy to see the majority of the boats were packed for a day trip, and we began to relax, hoping our overnight beach was still available. 
One of our favorite lower level Nolichucky activities is to kayak down to Jaws to play for the day, and hike out – just another reason why this river has so much to give on so many days! 
After Jaws comes the hardest rapid on the river, Quarter Mile. Aptly named due to its length, it is a series of ledges that, when run wrong, can be disastrous. A Class IV rapid that needed to be run smoothly to avoid losing any gear or people, our raft charged in first while I, as the safety boater, hung back to come in and pick up anything that was lost if needed. We were confident our camping gear and clothes would remain dry in our Watershed DryBags (and they did!) but still had no desire to chase them down the river. The current picks up here in certain places, but thankfully we ended up running through just fine, and a sigh of relief was had by all – and a focus to head to the beach! 
After Quarter Mile are a few more rapids including, Roostertail, Roller Coaster, Surprise, Rock Garden (again, aptly named but at our water level there and due to a skilled guide in the back, our raft made it through without getting stuck on any rocks), and Railroad wall. As we came around the corner of Railroad Wall, we noticed a crowd of people on the Lost Cove beach and began to wonder if we would have to reevaluate our camp for the night. 
Lost Cove Beach
Another one of my favorite things about being a part of the whitewater community is how friendly people can be to strangers! As we rolled up to the beach we realized the group didn't appear to have camping stuff with them – so we simply asked! As it turns out they were just pulled over for a day trip, so we pulled our boats up on the beach, and set up camp.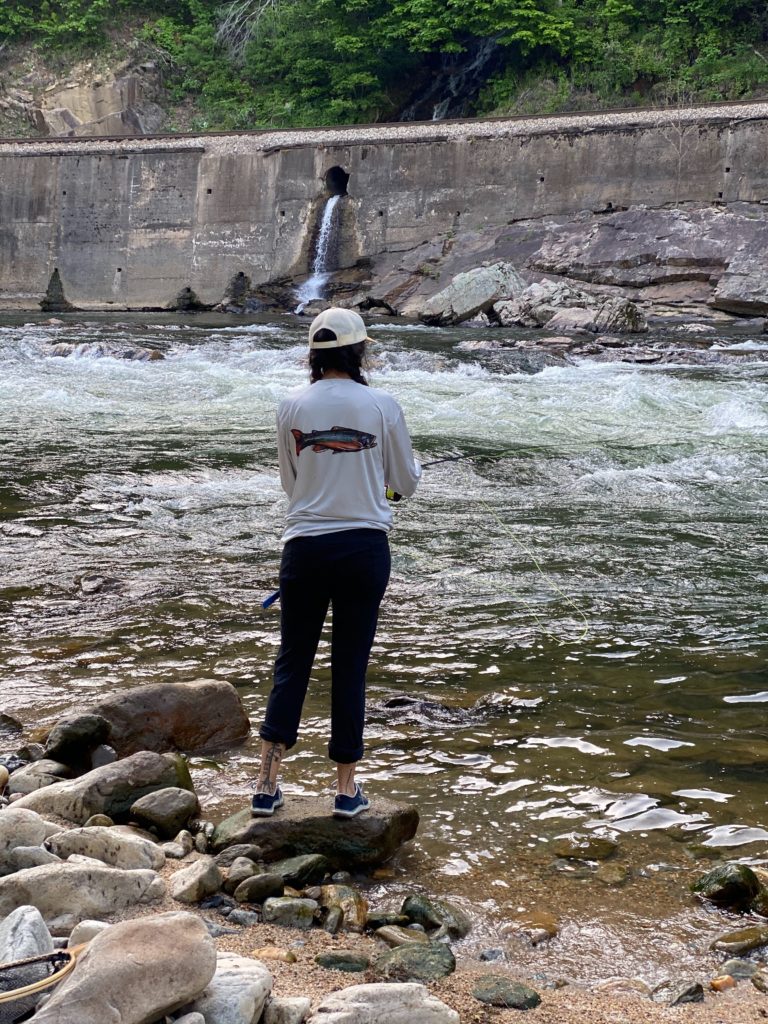 One of the reasons Lost Cove beach is the best to camp on is how long and wide it is. It has an area under the trees, which is great for hammocks and cover, as well as a wide beach area perfect for tents. Additionally, the fishing in this section is GREAT. In addition to fish, there is a lot of wildlife on the river. We saw two juvenile bald eagles, some herons, fish, and of course some snakes and bugs. We thankfully did not see any bears, but we did set our camp kitchen up on the far end of the beach from our tents, to avoid any uncomfortably close encounters.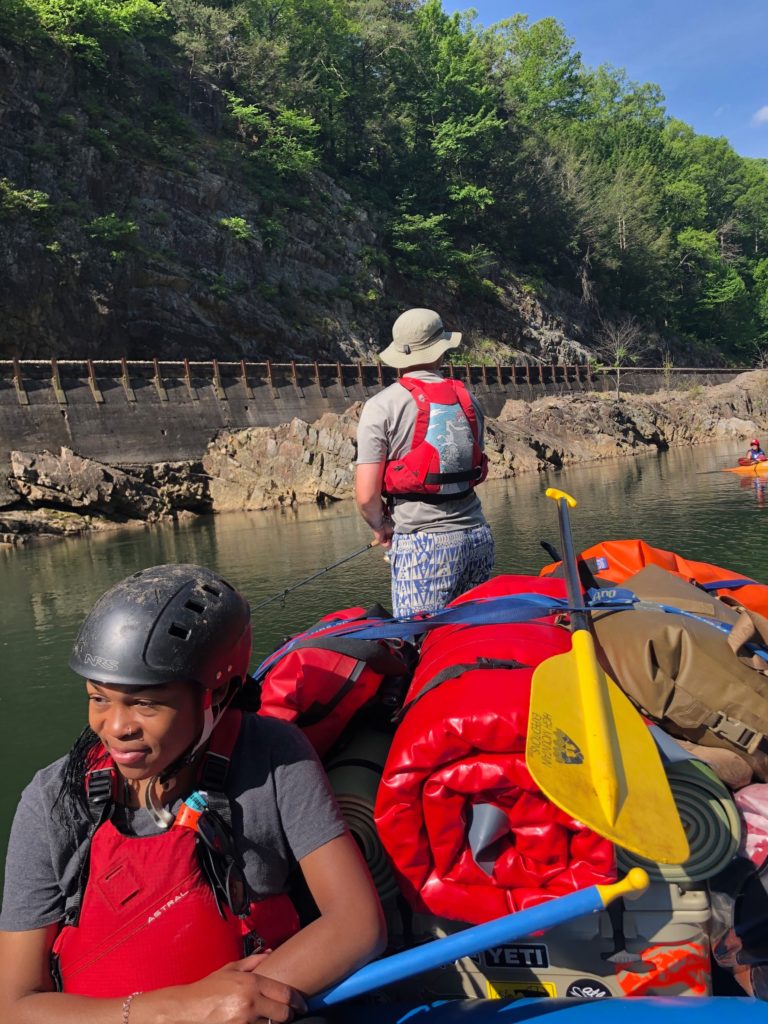 As the sun began to set on our campsite, we saw thousands of stars – so many more than you would see at home. We were lucky enough to catch part of a meteor shower, as well as several satellites! As we settled into our tent for the night, there is a feeling of being remote in the wilderness (while in reality only being about 4 miles from our takeout) that is hard to beat. 
We woke up in the morning tired, happy, a little sunburned and overall satisfied with our choice to spend the night on the river. As we paddled out, we already began planning our next overnight back in this beautiful place. 
If you have the chance to spend the night on the river, I highly recommend it!